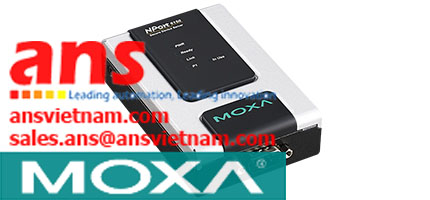 Terminal Servers NPort 6150 Series Moxa vietnam
Features and Benefits
Secure operation modes for Real COM, TCP Server, TCP Client, Pair Connection, Terminal, and Reverse Terminal
Nonstandard baudrates supported with high precision
Automatic RS-485 data direction control with Moxa's patented ADDC®
Enhanced remote configuration with HTTPS and SSH
Port buffers for storing serial data when the Ethernet is offline
Supports IPv6
Generic serial commands supported in Command-by-Command mode
ISA99 / IEC 62443-4-2 compliant
Overview
The NPort® 6150 1-port device servers use the SSL and SSH protocols to transmit encrypted serial data over Ethernet. The NPort® 6150's 3-in-1 serial port supports RS-232, RS-422, and RS-485, with the interface selected from an easy-to-access configuration menu.
Secure Data Transmission
For many applications, guaranteeing secure data transmission is an important concern when connecting serial devices to a network. To answer this concern, the NPort® 6150 supports the SSL and SSH protocols, which work by encrypting data before sending it over the network. With the NPort® 6150, users can rest assured that serial data is transmitted securely over both private and public networks.
Dimensions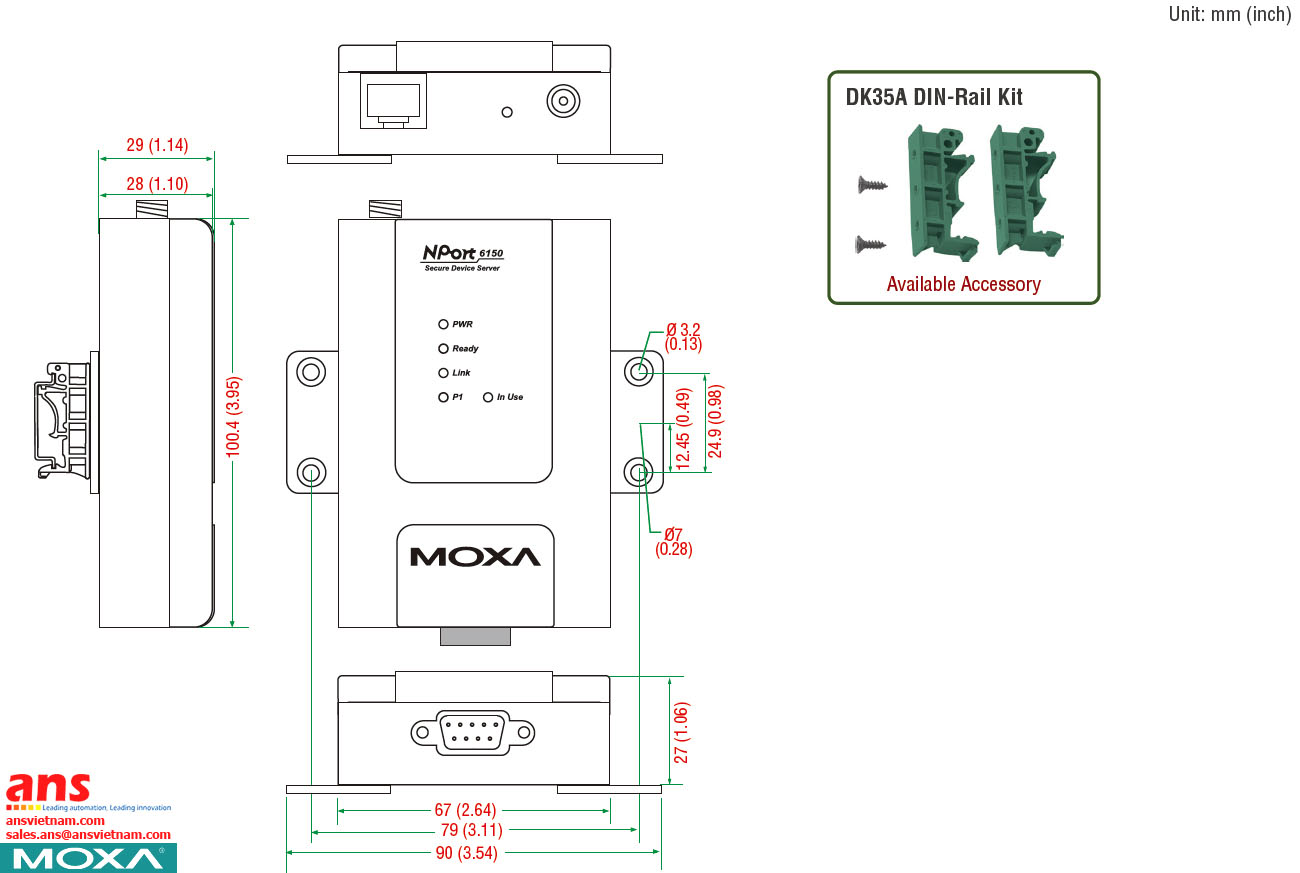 Pin Assignment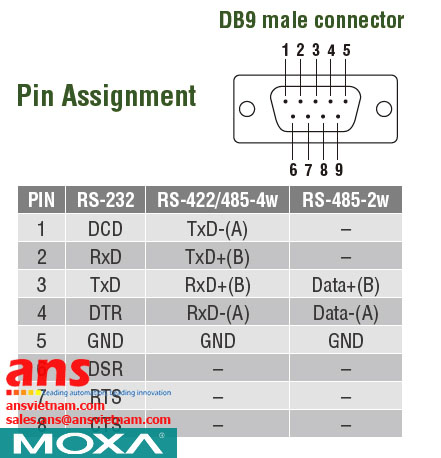 •

Ethernet Interface
Number of Ports
1
Speed
10/100 Mbps, auto MDI/MDIX
Connector
8-pin RJ45
Magnetic Isolation
1.5 kV built-in

•

Serial Interface
Number of Ports
1
Serial Standards
RS-232/422/485
Connector
DB9 male
RS-485 Data Direction Control
ADDC® (Automatic Data Direction Control)
Console Port
Serial port doubles as RS-232 console port

•

Serial Communication Parameters
Data Bits
5, 6, 7, 8
Stop Bits
1, 1.5, 2
Parity
None, Even, Odd, Space, Mark
Flow Control
RTS/CTS, DTR/DSR, XON/XOFF
Baudrate
50 bps to 921.6 kbps (supports nonstandard baudrates)
Pull High/Low Resistor for RS-485
1 kΩ, 150 kΩ

•

Serial Signals
RS-232
TxD, RxD, RTS, CTS, DTR, DSR, DCD, GND
RS-422
Tx+, Tx-, Rx+, Rx-, GND
RS-485-4w
Tx+, Tx-, Rx+, Rx-, GND
RS-485-2w
Data+, Data-, GND

•

Software
Network Protocols
ICMP, IPv4/v6, TCP, UDP, DHCP, BOOTP, Telnet, DNS, SNMP V1/V2c/V3, HTTP, SMTP, ARP, PPPoE, HTTPS
Security Protocols
SSLv3, TLSv1.0/1.1/1.2
Configuration Options
Web Console, Serial Console, Telnet Console, Windows Utility
Windows Real COM Drivers
Windows 95/98/ME/NT/2000, Windows XP/2003/Vista/2008/7/8/8.1/10 (x86/x64), Windows 2008 R2/2012/2012 R2 (x64), Windows Embedded CE 5.0/6.0, Windows XP Embedded
Fixed TTY Drivers
SCO Unix, SCO OpenServer, UnixWare 7, QNX 4.25, QNX 6, Solaris 10, FreeBSD, AIX 5.x, HP-UX 11i, Mac OS X
Linux Real TTY Drivers
Linux 2.4.x, 2.6.x, 3.x
Management
SNMP MIB-II
IP Routing
Static, RIP-I, RIP-II

•

Operation Modes
Standard
Real COM, TCP Server, TCP Client, UDP, Pair Connection, RFC2217, Terminal, Reverse Telnet, Ethernet Modem, Printer, PPP, Disabled
Secure
Secure Real COM, Secure TCP Server, Secure TCP Client, Secure Pair Connection, SSH, Reverse SSH

•

Applications
Terminal Sessions
8 sessions per port

•

Physical Characteristics
Housing
Metal
Weight
700 g (1.54 lb)
Dimensions
Without ears: 67 x 100.4 x 29 mm (2.64 x 3.95 x 1.1 in)
With ears: 90 x 100.4 x 29 mm (3.54 x 3.95 x 1.1 in)

•

Environmental Limits
Operating Temperature
Standard Models: 0 to 55°C (32 to 131°F)
Wide Temp. Models: -40 to 75°C (-40 to 167°F)
Storage Temperature
-40 to 75°C (-40 to 167°F)
Ambient Relative Humidity
5 to 95% (non-condensing)

•

Power Requirements
Input Voltage
12 to 48 VDC
Input Current
285 mA @ 12 VDC
Power Line Protection
1 kV burst (EN 61000-4-4: EFT/B), 1 kV surge (EN 61000-4-5)

•

Standards and Certifications
Safety
UL 60950-1
EMC
EN 55032/24
EMI
CISPR 32, FCC Part 15B Class A
EMS
IEC 61000-4-2 ESD: Contact: 4 kV; Air: 8 kV
IEC 61000-4-3 RS: 80 MHz to 1 GHz: 3 V/m
IEC 61000-4-4 EFT: Power: 1 kV; Signal: 0.5 kV
IEC 61000-4-5 Surge: Power: 1 kV; Signal: 1 kV
IEC 61000-4-6 CS: 150 kHz to 80 MHz: 3 V/m; Signal: 3 V/m
IEC 61000-4-8 PFMF
IEC 61000-4-11 DIPs
Freefall
IEC-68-2-6, IEC-68-2-34, IEC-68-2-32
Vibration
IEC-68-2-6, IEC-68-2-34
Green Product
RoHS, CRoHS, WEEE
Transportation
NEMA TS2

•

Reliability
Alert Tools
Built-in buzzer and RTC (real-time clock)
Automatic Reboot Trigger
Built-in WDT (watchdog timer)

•

MTBF (mean time between failures)
Time
2,097,705 hrs
Standard
Telcordia (Bellcore) Standard TR/SR

•

Warranty
Warranty Period
5 years
Details
www.anhnghison.com