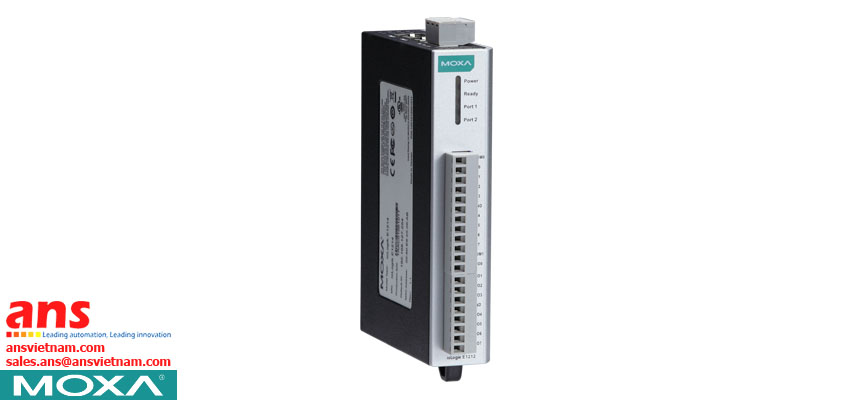 Ethernet I/O ioLogik E1212 Moxa vietnam

User-definable Modbus/TCP Slave addressing

Supports EtherNet/IP* adapter mode
Supports RESTful API for IIoT applications
2-port Ethernet switch for daisy-chain topologies
Save time and wiring cost with peer-to-peer communications

Active communications with MX-AOPC UA Server

Supports SNMPv1/v2c

Easy mass deployment and configuration with ioSearch utility

Friendly configuration via web browser

Simplify I/O management with MXIO library on either a Windows or Linux platform

Class I Division 2, ATEX Zone 2 certification

Wide operating temperature range: -40 to 75°C (-40 to 167°F)

*Requires online registration (available free of charge)
Introduction
I/O to IT/OT Protocol Conversion
The ioLogik E1200 does just what you need by supporting the most often-used protocols for retrieving I/O data. Most IT engineers use SNMP or RESTful API protocols, but IA engineers are more familiar with Operational Technologies (OT), such as Modbus and EtherNet/IP. Moxa's Smart I/O makes it possible for both IT and IA engineers to conveniently retrieve data from the same I/O device. The ioLogik E1200 series speaks six different protocols, including Modbus/TCP, EtherNet/IP, and Moxa AOPC for IA engineers, as well as SNMP, RESTful API, and Moxa MXIO library for IT engineers. The ioLogik E1200 retrieves I/O data and converts the data to any of these protocols at the same time, allowing you to get your applications connected easily and effortlessly. Learn more…




Daisy-chained Ethernet I/O Connection
A new daisy-chained Ethernet I/O concept is now available. The ioLogik E1212 industrial Ethernet remote I/O has two embedded Ethernet switch ports that allow information to flow to another local Ethernet device or connect to the next ioLogik in the daisy-chain.

Applications such as factory automation, security and surveillance systems, and tunnel monitoring, can make use of daisy-chained Ethernet for building multi-drop I/O networks over standard Ethernet cables. Many industrial automation users are familiar with the multi-drop configuration typically used in fieldbus applications. The daisy-chain function on the Ethernet remote I/O ioLogik E1212 not only increases the connection between machines and panels, but also lowers the cost of buying separate Ethernet switches, and at the same time reduces labor fees and cabling by a large percentage. For example, if a production facility contains 700 stations (20 points per station), the wiring cost reduction can reach 15% of the total implementation cost.

Saving Time and Wiring Costs with Peer-to-Peer Communications
In remote automation applications, the control room and sensors are often far removed, making wiring over long distances a constant challenge. With peer-to-peer networking, users may now map a pair of ioLogik E1200 series modules so that input values will be directly transferred to output channels, greatly simplifying the wiring process and reducing wiring costs.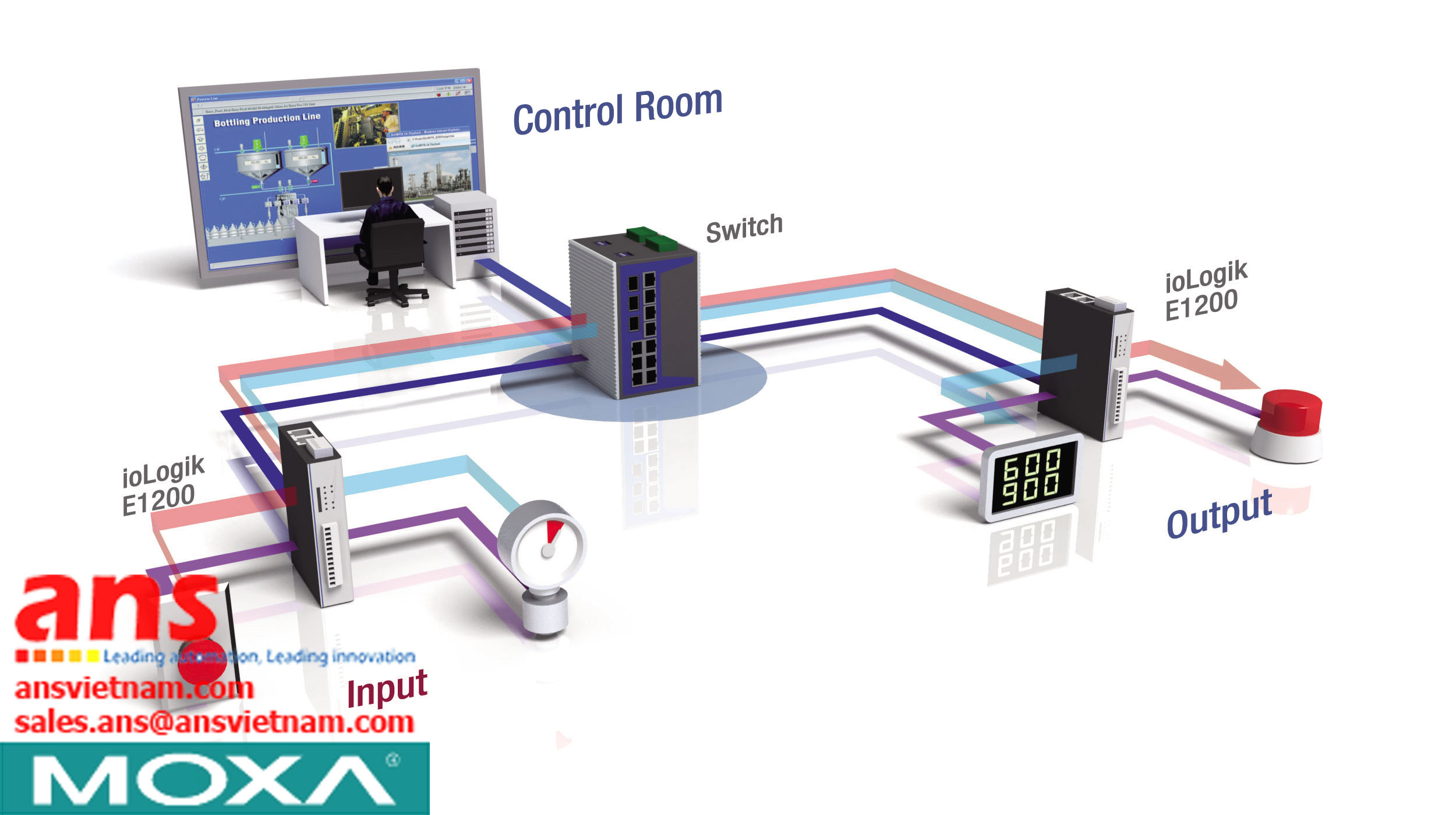 User-definable Modbus/TCP Addressing for Painless Upgrading of Existing Systems
For Modbus devices that are controlled and detected by fixed addresses, users need to spend a vast amount of time researching and verifying the configurations. Users need to locate each device's networking details like I/O channels, or vendor-defined addresses to enable the initial or start address of a SCADA system or PLC. The ioLogik E1200, with user-definable Modbus/TCP addressing, offers greater flexibility, and setup is easy. Instead of worrying about individual devices, users simply configure the function and address map to fit their needs.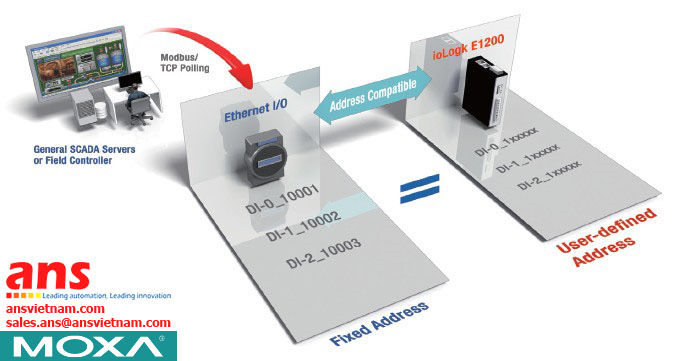 Towards a Smarter World with Moxa's I/O Solutions
Smart I/O Success Stories
The innovation of Moxa's data acquisition engineers is reflected in Moxa's latest I/O products, which are helping companies around the world simplify the management of distributed control systems, and as a result reduce costs and create business growth. In addition, Moxa also provides innovative data acquisition software that helps businesses simplify the process of integrating I/O devices with an existing network. This smart automation software not only helps users gather data faster and more efficiently, but also helps businesses identify, assess, and monitor potential risks.
Download this 16-page Smart I/O Brochure to learn more about:
- The Smarter World Trend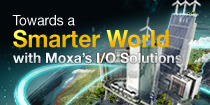 - Moxa's Innovative Designs
- Moxa's Easy-to-Use Automation Software
- Success Stories Based on Moxa's Smart I/O Solutions
- Moxa's Smart IO Product Selection Guide
Related White Papers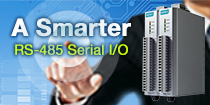 A New Chapter in the Legacy of RS-485 Data Acquisition Devices
This white paper provides insight into the future of RS-485 data acquisition devices, and how Moxa is adding a new chapter to the legacy of RS-485 data acquisition devices.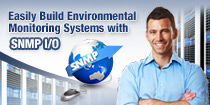 SNMP I/O Devices Make Monitoring Environmental Conditions Easy
This paper will first explain what SNMP is, why you should use SNMP for environmental monitoring, and then discuss how an SNMP environmental monitoring device will help ease the management and implementation process.
Hardware Informations:
Dimensions (unit = mm)
Pin Assignment
I/O (top to bottom)
•

ioLogik E1212 Specifications

•

Inputs and Outputs
Digital Inputs
8 channels
Configurable DIOs (by jumper)
8 channels
Isolation
3k VDC or 2k Vrms

•

Digital Input
Sensor Type
Wet Contact (NPN or PNP), Dry Contact
I/O Mode
DI or Event Counter
Dry Contact
• On: short to GND
• Off: open
Wet Contact (DI to COM)
• On: 10 to 30 VDC
• Off: 0 to 3 VDC
Common Type
8 points per COM
Counter Frequency
250 Hz
Digital Filtering Time Interval
Software Configurable

•

Digital Output
Type
Sink
I/O Mode
DO or Pulse Output
Pulse Output Frequency
500 Hz
Over-Voltage Protection
45 VDC
Over-Current Protection
2.6 A (4 channels @ 650 mA)
Over-Temperature Shutdown
175°C (typical), 150°C (min.)
Current Rating
200 mA per channel

•

Power Requirements
Input Voltage
12 to 36 VDC
Input Current
155 mA @ 24 VDC

•

MTBF (mean time between failures)
Time
561,930 hrs
Standard
Telcordia SR332

•

Common Specifications

•

LAN
Ethernet
2 switched 10/100 Mbps RJ45 ports
Protection
1.5 kV magnetic isolation
Protocols
Modbus/TCP (Slave), EtherNet/IP*, SNMPv1/v2c, RESTful API, TCP/IP, UDP, DHCP, BOOTP, HTTP
*Requires online registration at http://moxa-vietnam.ansvietnam.com

•

Physical Characteristics
Wiring
I/O cable max. 14 AWG
Dimensions
27.8 x 124 x 84 mm (1.09 x 4.88 x 3.31 in)
Weight
Under 200 g (0.44 lb)
Mounting
DIN rail or wall

•

Environmental Limits
Operating Temperature
Standard Models: -10 to 60°C (14 to 140°F)
Wide Temp. Models: -40 to 75°C (-40 to 167°F)
Storage Temperature
-40 to 85°C (-40 to 185°F)
Ambient Relative Humidity
5 to 95% (non-condensing)
Shock
IEC 60068-2-27
Vibration
IEC 60068-2-6
Altitude
Up to 2000 m
Note
Please contact Moxa if you require products guaranteed to function properly at higher altitudes.

•

Standards and Certifications
Safety
UL 508
EMC
EN 55032, EN 55024, EN 61000-3-2/3-3, EN 61000-6-2/6-4
EMI
CISPR 32, FCC Part 15B Class A
EMS
IEC 61000-4-2 ESD: Contact: 4 kV; Air: 8 kV
IEC 61000-4-3 RS: 80 MHz to 1 GHz: 3 V/m
IEC 61000-4-4 EFT: Power: 2 kV; Signal: 1 kV
IEC 61000-4-5 Surge: Power: 2 kV; Signal: 1 kV
IEC 61000-4-6 CS: 10 V
IEC 61000-4-8
Hazardous Location
Class 1 Division 2, ATEX Zone 2
Green Product
RoHS, CRoHS, WEEE
Note: Please check Moxa's website for the most up-to-date certification status.

•

Warranty
Warranty Period
5 years
Details
www.anhnghison.com
Note: Because of the limited lifetime of power relays, products that use this component are covered by a 2-year warranty.