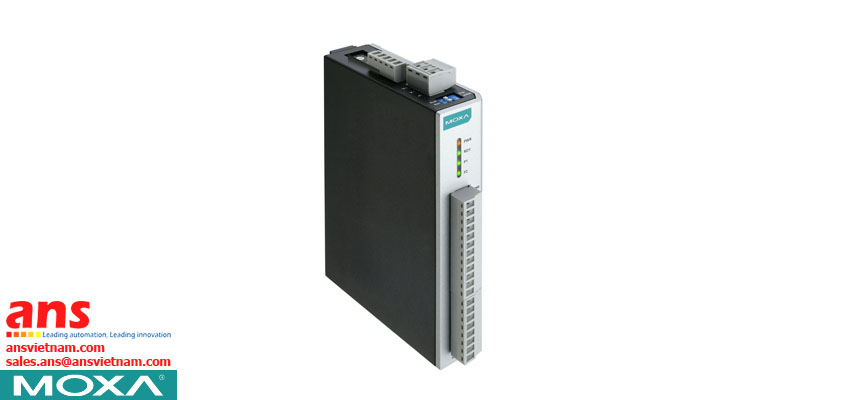 RS-485 I/O ioLogik R1241 Moxa vietnam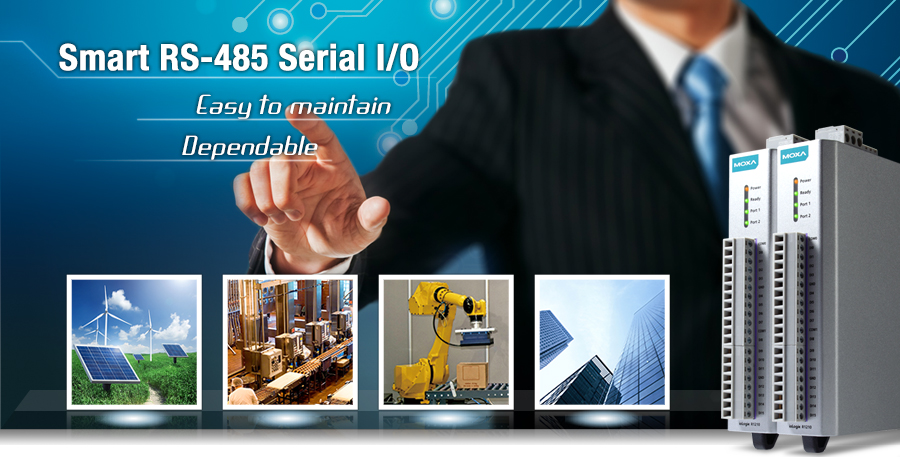 Features and Benefits
Dual RS-485 remote I/O with built-in repeater
Supports the installation of multidrop communications parameters
Install communications parameters and upgrade firmware via USB
Upgrade firmware through an RS-485 connection
Wide operating temperature range: -40 to 85°C (-40 to 185°F)
Easy-to-use software interface for easy maintenance
Moxa's easy-to-use ioSearch software, you can quickly access all of an ioLogik R1200 series device's status information and settings in a user friendly graphic interface. Furthermore, ioSearch also provides an easy method for updating firmware for all ioLogik R1200 devices over an RS-485 network, so you can even update your firmware remotely. This free and easy-to-use ioSearch softwarewill reduce your maintenance time and labor effort.
Moxa's ioLogik R1200 lets you set up your communication interface using a simple software utility. When the ioLogik R1200 is on the same RS-485 network, you no longer need to turn hundreds of dials during setup. Instead, simply configure and duplicate each ioLogik R1200's baudrate and mode through the graphical user interface. This convenient software feature eases the effort of maintenance engineers, and greatly simplifies upgrading traditional device configuration.
Innovative hardware design reduces deployment effort and enhances maintenance efficiency
With the industry's first RS-485 serial remote I/O with USB design, Moxa provides an innovative solution for upgrading and configuring RS-485 remote I/O communication devices and firmware. All you need to do is upload the configurations to a USB drive, plug it into the field device, and all the configurations and firmware updates will upload to the field device. This innovative solution allows anyone, even someone with no technical background, to upload a device's configurations and firmware by USB so you no longer need to bring your computer to the field site to perform routine maintenance.

Cost-saving hardware design for backup and redundancy
Moxa's ioLogik R1200 provides dual RS-485 ports so when one of your RS-485 ports is damaged, you can quickly switch to the other RS-485 port for quick testing or repair. RS-485 remote I/O devices are already considered a low cost technology, but with dual RS-485 ports, Moxa helps you save a little bit more.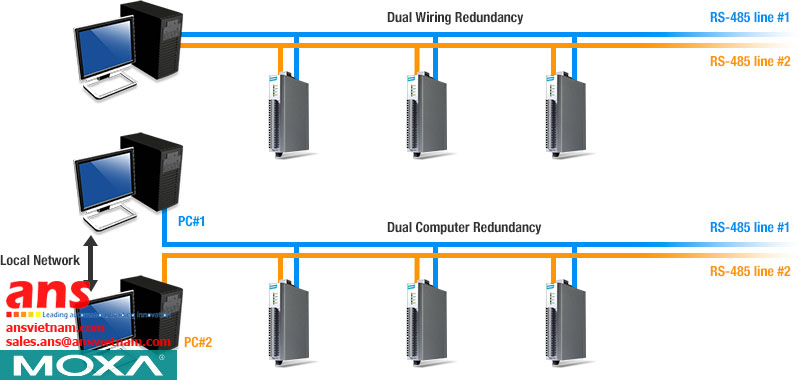 With the ioLogik R1200, you can take advantage of our dual RS-485 ports to set up wiring, provide computer redundancy, or backup your network using two computer topologies. For wiring redundancy, when your computer detects that one of the RS-485 connections is not responding, it can quickly switch over to the other RS-485 line to guarantee continuous communication between the field sensor and the central computer. Furthermore, users have the freedom to define the settings. For computer redundancy, the ioLogik R1200 provides system operators with a secure backup when one system goes down.

Towards a Smarter World with Moxa's I/O Solutions
Smart I/O Success Stories
The innovation of Moxa's data acquisition engineers is reflected in Moxa's latest I/O products, which are helping companies around the world simplify the management of distributed control systems, and as a result reduce costs and create business growth. In addition, Moxa also provides innovative data acquisition software that helps businesses simplify the process of integrating I/O devices with an existing network. This smart automation software not only helps users gather data faster and more efficiently, but also helps businesses identify, assess, and monitor potential risks.
Download this 16-page Smart I/O Brochure to learn more about:
- The Smarter World Trend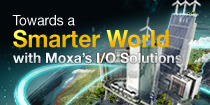 - Moxa's Innovative Designs
- Moxa's Easy-to-Use Automation Software
- Success Stories Based on Moxa's Smart I/O Solutions
- Moxa's Smart IO Product Selection Guide
Related White Papers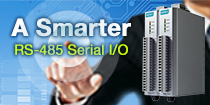 A New Chapter in the Legacy of RS-485 Data Acquisition Devices
This white paper provides insight into the future of RS-485 data acquisition devices, and how Moxa is adding a new chapter to the legacy of RS-485 data acquisition devices.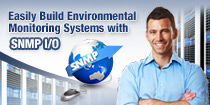 SNMP I/O Devices Make Monitoring Environmental Conditions Easy
This paper will first explain what SNMP is, why you should use SNMP for environmental monitoring, and then discuss how an SNMP environmental monitoring device will help ease the management and implementation process.
Hardware Informations:
Dimensions (unit = mm)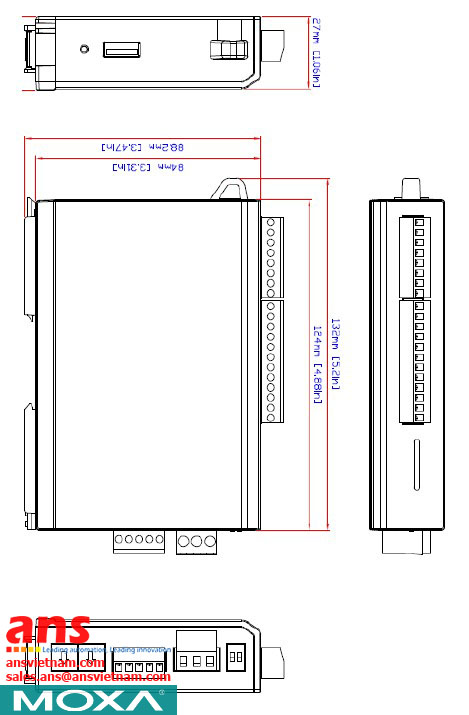 ioLogik R1241 Specifications

•

Inputs and Outputs
Analog Outputs
4 channels
Isolation
3k VDC or 2k Vrms

•

Analog Output
Resolution
12 bits
Output Range
0 to 10 VDC, 0 to 20 mA, 4 to 20 mA
Voltage Output
10 mA (max.)
Accuracy
±0.1% FSR @ 25°C
±0.3% FSR @ -40 and 75°C
Load Resistor
Internal register: 400 ohms
Note: 24 V of external power required when loading exceeds 1000 ohms.

•

Power Requirements
Input Voltage
12 to 48 VDC
Input Current
343 ma @ 24 VDC
Common Specifications

•

Serial
Interface
2 RS-485-2w terminal block ports
Serial Line Protection
• ESD Protection: 15 kV
• Surge Protection: 1 kV
• High/Low Resistor for RS-485: 1 kΩ, 150 kΩ
Parity
None, Even, Odd
Data Bits
8
Stop Bits
1, 2
Baudrate
1200 to 921600 bps
Protocols
Modbus RTU (slave)

•

Physical Characteristics
Wiring
I/O cable max. 16 AWG
Dimensions
27.8 x 124 x 84 mm (1.09 x 4.88 x 3.31 in)
Weight
Under 200 g (0.44 lb)
Mounting
DIN-rail or wall

•

Environmental Limits
Operating Temperature
Standard Models: -10 to 75°C (14 to 167°F)
Wide Temp. Models: -40 to 85°C (-40 to 185°F)
Storage Temperature
-40 to 85°C (-40 to 185°F)
Ambient Relative Humidity
5 to 95% (non-condensing)
Shock
IEC 60068-2-27
Vibration
IEC 60068-2-6
Altitude

Up to 2000 m
Note: Please contact Moxa if you require products guaranteed to function properly at higher altitudes.

•

Standards and Certifications
Safety
UL 508
EMC
EN 55032/24
EMI
CISPR 32, FCC Part 15B Class A
EMS
IEC 61000-4-2 ESD: Contact: 4 kV; Air: 8 kV
IEC 61000-4-3 RS: 80 MHz to 1 GHz: 3 V/m
IEC 61000-4-4 EFT: Power: 0.5 kV
IEC 61000-4-5 Surge: Power: 2 kV
IEC 61000-4-6 CS: 3 V
IEC 61000-4-8
Green Product
RoHS, CRoHS, WEEE
Please check Moxa's website for the most up-to-date certification status.

•

MTBF (mean time between failures)
Time
1,239,293 hrs
Standard
Telcordia SR332

•

Warranty
Warranty Period
5 years (excluding the ioLogik R1214)
Details
www.anhnghison.com
Note: Because of the limited lifetime of power relays, products that use this
component are covered by a 2-year warranty.