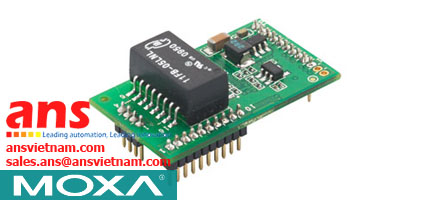 Embedded Serial-to-Ethernet Modules MiiNePort E2 Series Moxa vietnam
* MiiNePort E2 embedded module has received Taiwan Excellence awards.
Features and Benefits
Smallest embedded device server available—only 29 x 17 x 12.6 mm
EZPower for 3.3 to 5 VDC system power input supported
Extremely low power consumption
Uses the MiiNe, Moxa's second generation SoC
Simple integration with NetEZ technology
Operation versatility with Real COM/TCP/UDP/RFC2217/MCSC
Overview
Moxa's MiiNePort E2 series embedded device servers are designed for manufacturers who wanting add sophisticated network connectivity to their serial devices with minimal integration effort. The MiiNePort E2 is empowered by the MiiNe, Moxa's second generation SoC, which supports 10/100 Mbps Ethernet, delivers a serial baudrate of up to 921.6 kbps, offers a versatile selection of ready-to-use operation modes, and requires a minimal amount of power. With Moxa's innovative NetEZ technology, the MiiNePort E2 can convert any device with a standard serial interface to an Ethernet-enabled device. In addition, the MiiNePort E2 is the smallest embedded device server without an RJ45 connector, making it easy to fit into virtually any existing serial device.
The MiiNe—Moxa's 2nd Generation SoC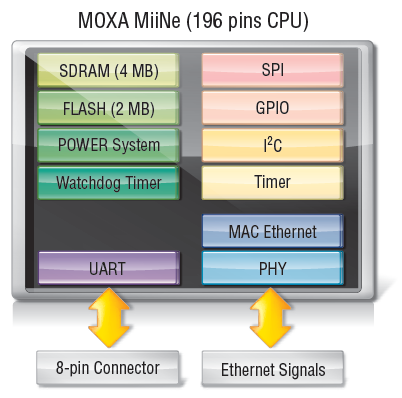 The MiiNe was created to provide manufacturers with a competitive embedded serial-to-Ethernet solution. The MiiNePort E2, which uses the MiiNe for its SoC, is one of the world's tiniest embedded device servers, and has the lowest power consumption of similar products. The MiiNe's features include:
• Cost-effective serial-to-Ethernet conversions
• ARM core
• Advanced UART technology
• Internal 2 MB Flash and 4 MB SDRAM memory
Dimensions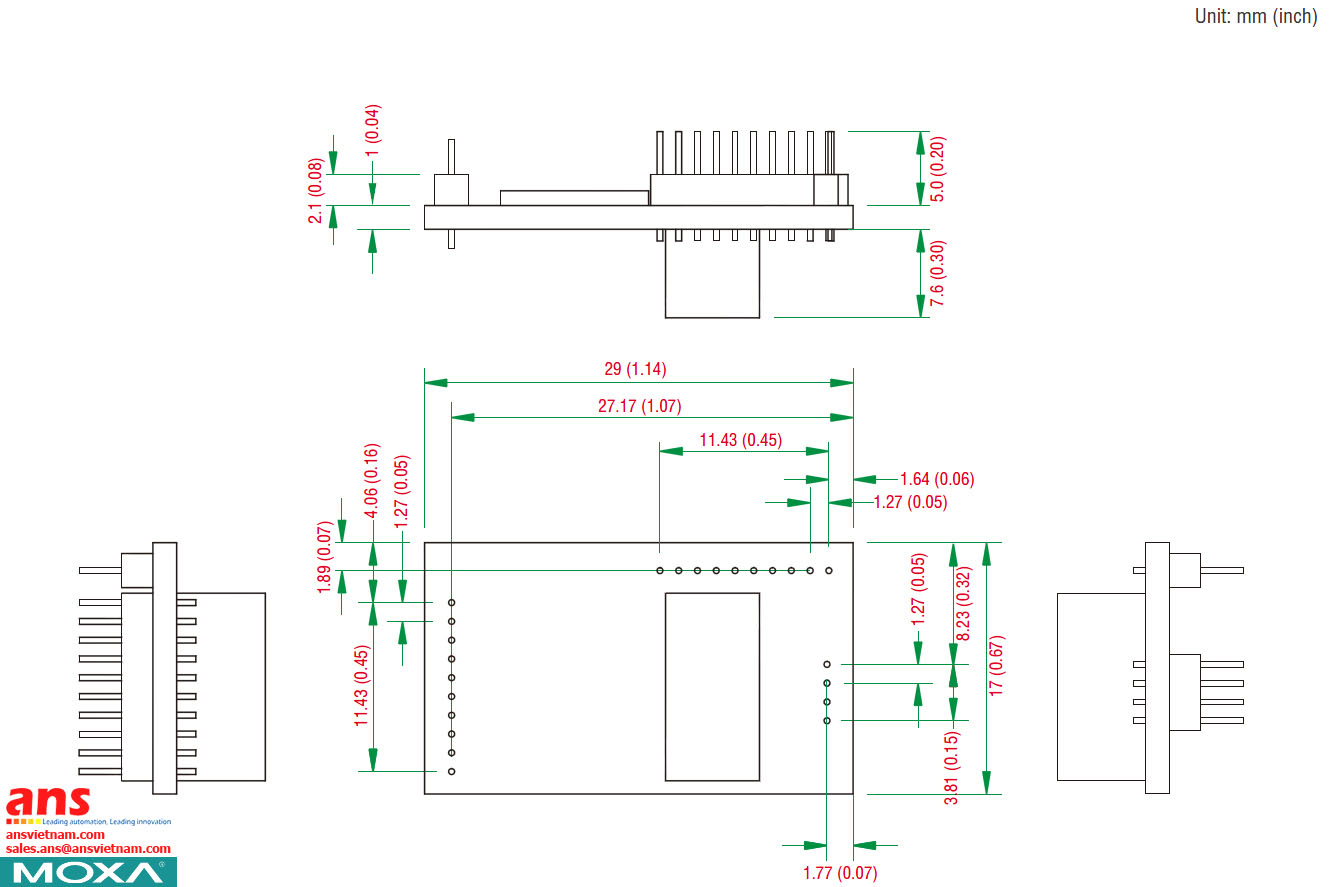 Pin Assignment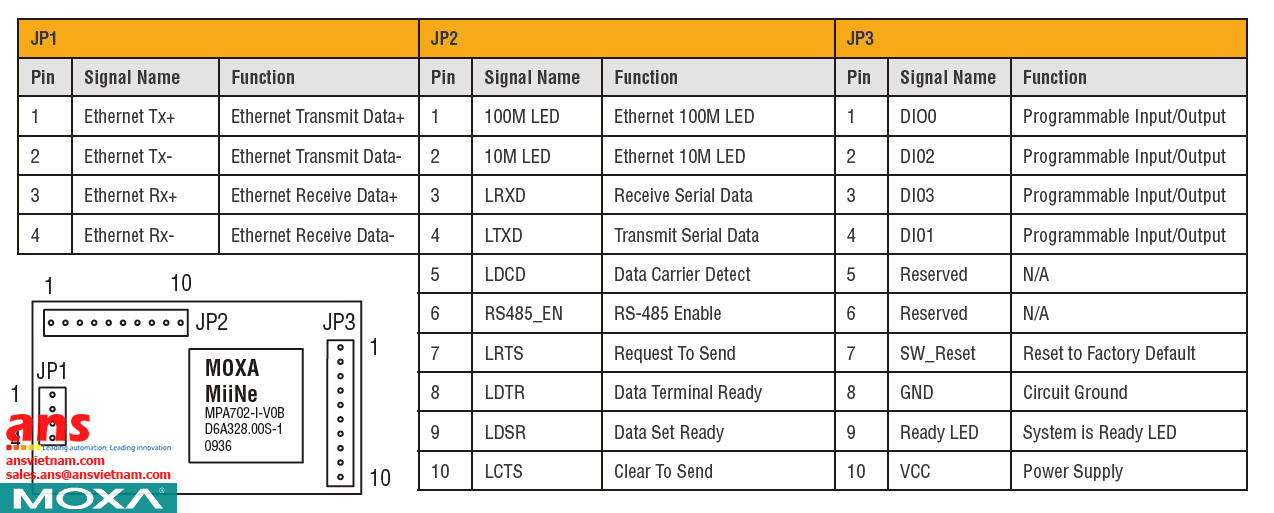 •

Form Factor
Type
Drop-in module
Dimensions
29 x 17 x 12.6 mm (1.14 x 0.67 x 0.50 in)
Weight
5 g (0.01 lb)

•

System Information
CPU
32-bit ARM Core
RAM
4 MB built in
Flash
2 MB built in

•

Ethernet Interface
Number of Ports
1
Speed
10/100 Mbps, auto MDI/MDIX
Magnetic Isolation Protection
1.5 kV built-in

•

Serial Interface
Number of Ports
1
Transmission Format
Standard TTL

•

Serial Communication Parameters
Data Bits
5, 6, 7, 8
Stop Bits
1, 1.5, 2
Parity
None, Even, Odd, Space, Mark
Flow Control
RTS/CTS, DTR/DSR, XON/XOFF
Baudrate
MiiNePort E2: 50 bps to 230.4 kbps
MiiNePort E2-H: 50 bps to 921.6 kbps
Note: Non-standard baudrates supported

•

Serial Signals
TTL
TxD, RxD, RTS, CTS, DTR, DSR, DCD, RST (reset circuit), GND

•

Digital I/O Pins
GPIO
4 configurable I/O pins

•

Software
Network Protocols
ICMP, ARP, IPv4, TCP, UDP, DHCP, HTTP, SNMP V1, SMTP, TFTP, Auto IP, Telnet, BOOTP
Configuration Options
Web Console, Serial Console (Serial Command Mode), Telnet Console, Windows Utility
Windows Real COM Drivers
Windows 95/98/ME/NT/2000, Windows XP/2003/Vista/2008/7/8/8.1/10 (x86/x64), Windows 2008 R2/2012/2012 R2 (x64), Windows Embedded CE 5.0/6.0, Windows XP Embedded
Fixed TTY Drivers
SCO Unix, SCO OpenServer, UnixWare 7, QNX 4.25, QNX 6, Solaris 10, FreeBSD, AIX 5.x, HP-UX 11i, Mac OS X
Linux Real TTY Drivers
Linux 2.4.x, 2.6.x, 3.x
Operation Modes
Real COM, TCP Server, TCP Client, UDP, Ethernet Modem, RFC2217, MCSC
NetEZ Function
EZPower, EZPage, SCM (Serial Command Mode), AutoCFG, MCSC (Multi-channel Serial Communication)

•

Environmental Limits
Operating Temperature
Standard Models: 0 to 55°C (32 to 131°F)
Wide Temp. Models: -40 to 85°C (-40 to 185°F)
Storage Temperature (package included)
-40 to 60°C (-40 to 140°F)
Ambient Relative Humidity
5 to 95% (non-condensing)

•

Power Requirements
Input Voltage
3.3 to 5 VDC
Input Current
157 mA @ 3.3 VDC

•

Standards and Certifications
EMC
EN 55032/24
EMI
CISPR 32, FCC Part 15B Class B
EMS
IEC 61000-4-2 ESD: Contact: 6 kV; Air: 8 kV
IEC 61000-4-3 RS: 80 MHz to 1 GHz: 3 V/m
IEC 61000-4-4 EFT: Power 1 kV; Signal 0.5 kV
IEC 61000-4-5 Surge: Power 2 kV; Signal: 0.5 kV
IEC 61000-4-6 CS: 150 kHz to 80 MHz: 3 V/m Signal: 3 V/m
IEC 61000-4-8 PFMF
IEC 61000-4-11
Vibration
IEC 60068-2-6, 5-25.7 Hz: ±15 mm; 25.7-500 Hz: 20g; 3 hours/axis
Shock
IEC 60068-2-27, 500g/2ms
Drop
IEC 60068-2-34IEC 60068-2-32, ISTA-2A

•

Reliability
MTBF (mean time between failures)
Time: 5,696,350 hrs
Standard: Telcordia (Bellcore) SR-332

•

Warranty
Warranty Period
5 years
Details
www.anhnghison.com