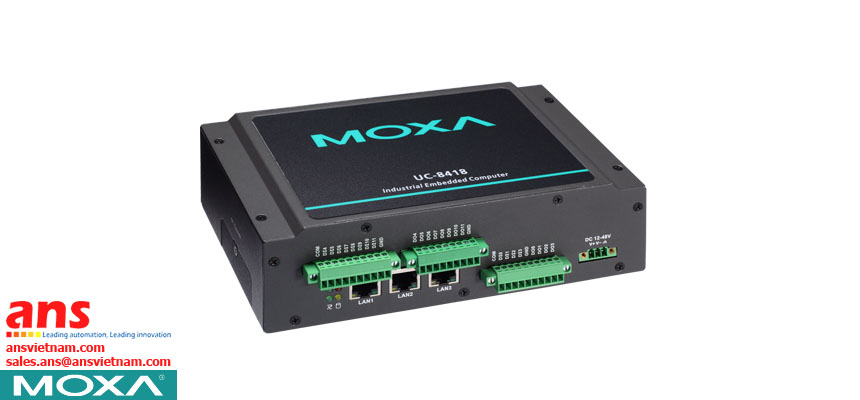 Compact / Fanless Computers UC-8418 Moxa vietnam
Features and Benefits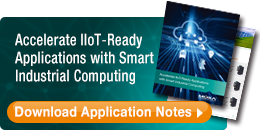 Intel XScale IXP435 533 MHz processor
8 RS-232/422/485 serial ports
2 CAN-bus ports
12 digital input and 12 digital output channels
3 10/100 Mbps Ethernet ports
2 USB 2.0 hosts for mass storage devices
Supports IPv6 function (Linux model only)
DIN-rail or wall-mounting installation
Robust, fanless design
-40 to 75°C wide temperature model available
Ready-to-run Embedded Linux or Windows CE 6.0
Overview
The UC-8418 series embedded computers come with 8 RS- 232/422/485 serial ports, 3 Ethernet ports, 2 CAN ports, 8 Ethernet ports, 12 digital input channels, 12 digital output channels, a CompactFlash socket, and 2 USB 2.0 hosts.
The computers use the Intel XScale IXP435 533 MHz RISC CPU. This powerful computing engine supports several useful communication functions, but will not generate too much heat. The built-in 16 MB NOR Flash ROM and 256 MB SDRAM give you enough memory to run your application software directly on the UC-8418, and the 32 MB NAND Flash can be used to provide additional data storage. Moreover, the 256 KB SRAM offers a better data retention mechanism for avoiding data loss. These computers come with various communication interfaces, such as serial ports, Ethernet ports, CAN ports, and digital input/output channels, making them ideal as a communication platform for industrial applications that require network and device communications.
The UC-8418 Series comes with the Linux 2.6 or Windows CE 6.0 platform pre-installed to provide an open software operating system for software program development. Software written for a desktop PC can be easily ported to the UC-8418 Series platform by using a common compiler, without needing to modify the code. making these computers an optimal solution for use with industrial applications, but with minimal cost and effort.
In addition to the standard model, a -40 to 75°C wide temperature model is also available for harsh industrial environments.
White Paper

Securing Edge Devices and Data in Distributed Industrial Applications
In this white paper, Moxa examines the unique security challenges posed by widely distributed computing solutions that put edge devices into residential homes and public spaces. When considering computers for smart grid, surveillance, and ITS solutions, system integrators must also consider how to lock down the hardware and software to protect the devices from being subverted by hostile exploits. End users and system integrators alike will find that the Trusted Computing Platforms figures strongly in the solution, and when combined with secure kernel authentication and a variety of other software and hardware features produces a powerful, versatile computing solution with a wide range of applications.........more
------------------------------------------------------------------------------------------------------------------------------------------------------
White Paper

Building the Industrial Cloud:The Immediate Future of M2M Technology
In 2013, substantial steps towards building the Internet of Things at last began to materialize. In this white paper, Moxa examines the sorts of technology industrial networks will be relying on as they begin to build and deploy machine-to-machine networks. Software automations, hardware optimizations, and integrated platforms that fully exploit the convergence of these two main branches of system design are examined closely, to give IA and IT engineers a better idea of what challenges and obstacles they should be preparing for at the dawn of this new technological epoch........more
Hardware Specifications

•

Computer
CPU
Intel XScale IXP435, 533 MHz
Expansion Bus
PCI/104 onboard
USB
USB 2.0 hosts x 2, type A connectors
DRAM
DDR2 SDRAM, 256 MB (512 MB max.)
Flash
• NOR Flash, 16 MB to sore OS (32 MB max. on CV request)
• NAND Flash, 32 MB to store data
OS (pre-installed)
Linux
SRAM
256 KB, battery backup

•

Storage
Storage Expansion
CompactFlash socket

•

Ethernet Interface
LAN
Auto-sensing 10/100 Mbps ports (RJ45) x 3
Switch Port
10/100 Mbps unmanaged-switch ports (RJ45) x 8 (UC-8416)
Magnetic Isolation Protection
1.5 kV, built-in

•

Serial Interface
Serial Standards
RS-232/422/485 software-selectable ports (8-pin RJ45) x 8
Console Port
RS-232 (TxD, RxD, GND), 4-pin header output (115200, n, 8, 1)

•

Serial Communication Parameters
Data Bits
5, 6, 7, 8
Stop Bits
1, 1.5, 2
Parity
None, Even, Odd, Space, Mark
Flow Control
RTS/CTS, XON/XOFF, ADDC® (automatic data direction control) for RS-485
Baudrate
50 bps to 921.6 kbps (supports nonstandard baudrates; see user's manual for details)

•

Serial Signals
RS-232
TxD, RxD, DTR, DSR, RTS, CTS, DCD, GND
RS-422
TxD+, TxD-, RxD+, RxD-, GND
RS-485-4w
TxD+, TxD-, RxD+, RxD-, GND
RS-485-2w
Data+, Data-, GND

•

Digital Input
Input Channels
DI x 12
Input Voltage
0 to 30 VDC
Digital Input Levels for Dry Contacts
• Logic level 0: Close to GND
• Logic level 1: Open
Digital Input Levels for Wet Contacts
• Logic level 0: +3 V max.
• Logic level 1: +10 V to +30 V (COM to DI)
Connector Type
10-pin screw-fastened terminal block (4 points, COM, GND)
Isolation
3 kV optical isolation

•

Digital Output
Output Channels
DO x 12, sink type
Output Current
Max. 200 mA per channel
On-State Voltage
24 VDC nominal, open collector to 30 V
Connector Type
10-pin screw-fastened terminal block (4 points, GND)
Isolation
3 kV optical isolation

•

CANbus Communication
Interface
Dual optically-isolated CAN2.0A/2.0B compliant ports
CAN Controller
Phillips SJA1000T
Signals
CAN_H, CAN_L
Isolation
2 kV digital isolation
Speed
10 kbps to 1 Mbps
Connector Type
DB9 male

•

LEDs
System
Power, Ready, Storage, Battery for SRAM
LAN
10M/Link x 2, 100M/Link x 2 (on connector)
Serial
TxD x 8, RxD x 8
Reset Button
Supports "Reset to Factory Default"

•

Physical Characteristics
Housing
SECC sheet metal (1 mm)
Weight
1 kg (2.22 lb)
Dimensions
200 x 57 x 120 mm (7.87 x 2.24 x 4.72 in)
Mounting
DIN rail, wall

•

Environmental Limits
Operating Temperature
Standard Models: -10 to 60°C (14 to 140°F)
Wide Temp. Models: -40 to 75°C (-40 to 167°F)
Storage Temperature
Standard Models: -20 to 75°C (-4 to 167°F)
Wide Temp. Models: -40 to 85°C (-40 to 185°F)
Ambient Relative Humidity
5 to 95% (non-condensing)
Anti-Vibration
2 Grms @ IEC-68-2-34, random wave, 5-500 Hz, 1 hr per axis
Anti-Shock
20 g @ IEC-68-2-27, half sine wave, 11 ms

•

Power Requirements
Input Voltage
12 to 48 VDC (3-pin terminal block)
Input Current
• 310 mA @ 48 VDC
• 625 mA @ 24 VDC
• 1350 mA @ 12 VDC
Power Consumption
15 W

•

Standards and Certifications
Safety
UL 60950-1, EN 60950-1, CCC (GB9254, GB17625.1)
EMC
EN 55032 Class B, EN 55024, FCC Part 15 Subpart B Class B

•

Reliability
Alert Tools
Built-in buzzer and RTC (real-time clock)
Automatic Reboot Trigger
Built-in WDT (watchdog timer)

•

MTBF (mean time between failures)
Time
149,140 hrs
Standard
Telcordia (Bellcore) Standard

•

Warranty
Warranty Period
5 years
Details
www.anhnghison.com
Note: The Hardware Specifications apply to the embedded computer unit itself, but not to accessories. In particular, the wide temperature specification does not apply to accessories such as the power adapter and cables.
Software Specifications

•

Linux
OS
Linux 3.8.13
Web Server (Apache)
Allows you to create and manage web sites; supports PHP and XML
Terminal Server (SSH)
Provides secure encrypted communications between two untrusted hosts over an unsecure network
File System
JFFS2, NFS, Ext2, Ext3
Internet Protocol Suite
TCP, UDP, IPv4, IPv6, SNMPv1, ICMP, ARP, HTTP, CHAP, PAP, DHCP, NTP, NFS, SMTP, Telnet, FTP, TFTP, PPP, PPPoE
Internet Security
OpenVPN, IPTables Firewall
Dial-up Networking
PPP Daemon (pppd) for Linux that uses the PPP
protocol and allows Unix machines to connect to the Internet as PPP
servers or clients, through dialup. The PPP Daemon Works with chat,
dip, and diald programs among others, and supports the IP, TCP, UDP,
and IPX for Linux (Novell) protocols.
Watchdog
Features a hardware function to trigger system reset in a user specified time interval (Moxa API provided)
Application Development Software
• Moxa API Library (Watchdog timer, Moxa serial I/O control, Moxa DI/DO API)
• GNU C/C++ cross-compiler
• GNU C library
• GDB source-level debugging server
Software Protection
Encryption tool for user executable files (based on patented Moxa technology)

•

Windows Embedded CE 6.0
OS
Windows Embedded CE 6.0
File System
FAT
Internet Protocol Suite
TCP, UDP, IPv4, IPv6, SNMPv2, ICMP, IGMP, ARP, HTTP, CHAP, PAP, SSL, DHCP, SNTP, SMTP, Telnet, FTP, PPP
Web Server (WinCE IIS)
Supports ASP, ISAPI Secure Socket Layer (SSL 2/3) and Transport Layer Security (TLS/SSL 3.1) public key-based protocols, and Web Administration ISAPI Extensions
Dial-up Networking
Supports RAS client API and PPP, Extensible Authentication Protocol (EAP), and RAS scripting
Watchdog
Features a hardware function to trigger system reset in a user-specified time interval. (Moxa API provided)
Application Development Software
• Moxa WinCE 6.0 SDK
• Moxa API Library
• C runtime libraries
• Component Services (COM and DCOM)
• Microsoft® .NET Compact Framework 3.5
• XML, including DOM, XQL, XPATH, XSLT, SAX, SAX2
• SOAP Toolkit Client
• Winsock 2.2