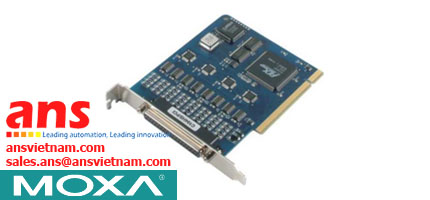 PCIe/UPCI/PCI Serial Cards C104H/PCI Series Moxa vietnam
Phase-out and Last Buy Notice
The C104H/PCI series will be discontinued starting from September 1, 2017. The deadline for placing a final purchase order is March 1, 2017. Due to the limited availability of these products, orders will be processed till we run out of stock. For alternative solution, please contact your Moxa sales representative if you have further questions.
Features
Low repair rate with ASIC design
Delivers fastest data transmission available, with speeds up to 921.6 Kbps
On-chip hardware flow control
Surge protection available
Works perfectly with all major operating systems
Introduction
The C104H/PCI Series of multiport serial boards is designed for people looking for an easy-to-use 4-port serial board. Plug the C104H/PCI Series board into the appropriate PCI slot, and all configuration tasks will be done automatically, elimintating the need to adjust I/O addresses and IRQ hardware switches and jumpers. C104H/PCI is an economical multiport serial board for users who need to control several RS-232 devices, but are unable to do so using the PC's COM1 and COM2 ports.
The C104H/PCI Series allows you to install additional RS-232 serial communication ports on your PC by providing 4 serial ports per board for connecting all types of serial devices, including terminals, modems, printers, data acquistion equipment, and more. And C104H/PCI's versatile OS driver support truly fulfills the needs of our customers' varied applications. The C104H/PCI Series offers a reliable and high performance solution for serial multiport communications.
Benefits
Easy to install

Compact board size—ideal for PC-based embedded systems

Low cost
Applications
PC-based POS devices

PC-based postal machines

PC-based Kiosks

PC-based lottery machines

Other serial device control applications
•

Hardware
Comm. Controller
16C550C or compatible x 4
Bus
PCI version 2.1 (32 bit)
Connector
DB37 female

•

Serial Interface
Number of Ports
4
Serial Standards
RS-232
Max. No. of Boards per PC
4

•

Serial Line Protection
ESD Protection
25 kV on the board (C104HS only)

•

Performance
Baudrate
50 bps to 921.6 kbps

•

Serial Communication Parameters
Data Bits
5, 6, 7, 8
Stop Bits
1, 1.5, 2
Parity
None, Even, Odd, Space, Mark
I/O Address
0x0000-0xFFFF (default = 0x180)
IRQ
2 (9), 3, 4, 5, 7, 10 (default), 11, 12, 15

•

Serial Signals
RS-232
TxD, RxD, RTS, CTS, DTR, DSR, DCD, GND

•

Operating Systems
Windows Real COM Drivers
Windows 95/98/ME/NT/2000, Windows XP/2003/Vista/2008/7/8/8.1 (x86/x64), Windows 2008 R2/2012/2012 R2 (x64), Windows 3.x, DOS, Windows Embedded CE 5.0/6.0, Windows XP Embedded
Fixed TTY Drivers
QNX 6, SCO OpenServer, UnixWare 7, Solaris 10, FreeBSD
Linux Real TTY Drivers
Linux 2.4.x, 2.6.x
Note
Please refer to Moxa's website for the latest driver support information.

•

Physical Characteristics
Dimensions
83 x 157 mm (3.27 x 6.18 in)

•

Environmental Limits
Operating Temperature
0 to 55°C (32 to 131°F)
Storage Temperature
-20 to 85°C (-4 to 185°F)
Ambient Relative Humidity
5 to 95% (non-condensing)
Altitude
Up to 2000 m
Note
Please contact Moxa if you require products guaranteed to function properly at higher altitudes.

•

Standards and Certifications
EMC
CE, FCC
EMI
EN 55022, FCC Part 15 Subpart B Class A
EMS
EN 61000-4-2, EN 61000-4-3, EN 61000-4-4
Green Product
RoHS, CRoHS, WEEE

•

MTBF (mean time between failures)
Time
629,545 hrs
Database
MIL-HDBK-217F, GB 25°C

•

Power Requirements
Power Consumption
100 mA max. @ +5 V, 100 mA max. @ +12 V, 60 mA max. @ -12 V

•

Warranty
Warranty Period
5 years
Details
www.anhnghison.com