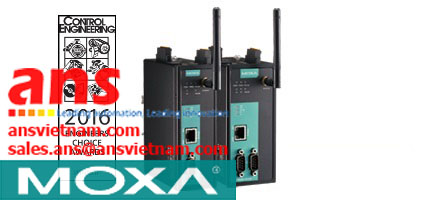 Industrial Modbus TCP Gateways MGate W5108/W5208 Series Moxa vietnam
Features and Benefits
Retrieve Modbus/DNP3 serial data through an 802.11 network
Supports serial tunneling communications
Slave mode supports 16 TCP masters and up to 31 or 62 serial slaves at the same time
Embedded Modbus/DNP3 traffic monitor
Secure data access with WEP/WPA/WPA2
2 kV serial port isolation
microSD card for configuration backup
-40 to 75°C wide operating temperature models available
Supports 2 digital inputs and 2 digital outputs
Overview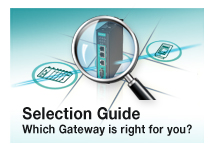 The MGate W5108/W5208 series gateways are an ideal choice for connecting Modbus serial devices to a wireless LAN, or DNP3 serial to DNP3 IP through a wireless LAN. With IEEE 802.11a/b/g/n support, you can use fewer cables in difficult wiring environments, and for secure data transmission, the MGate W5108/W5208 series gateways support WEP/WPA/WPA2. The gateways' rugged design makes them suitable for industrial applications, including oil & gas, power, process automation, and factory automation.
Modbus Traffic Monitor
The MGate W5108/W5208 series gateways support Modbus Protocol Traffic Monitor for easy troubleshooting, especially during the installation stage. Communication issues could be caused by incorrect software parameters, such as slave ID and register address, or incorrect hardware parameters such as baudrate and interface. With Modbus Protocol Traffic Monitor support, you can check the captured data and easily identify the root cause.
Variety Maintenance Functions
The MGate W5108/W5208 series gateways support a web console and Telnet console for remote maintenance. Each gateway also supports encryption commutation functions such as HTTPS and SSH to prevent security issues. In addition, log functions are provided in the firmware to record connection events and Modbus for maintenance events. Users can review log data remotely through the web console.
Dimensions
MGate W5108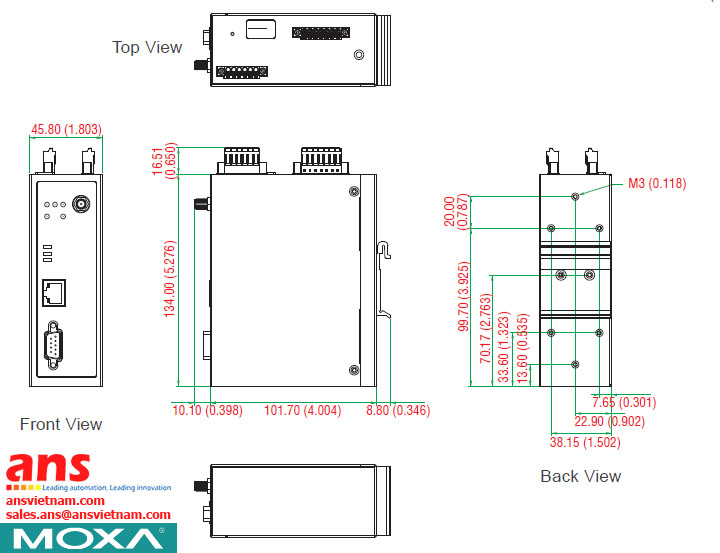 MGate W5208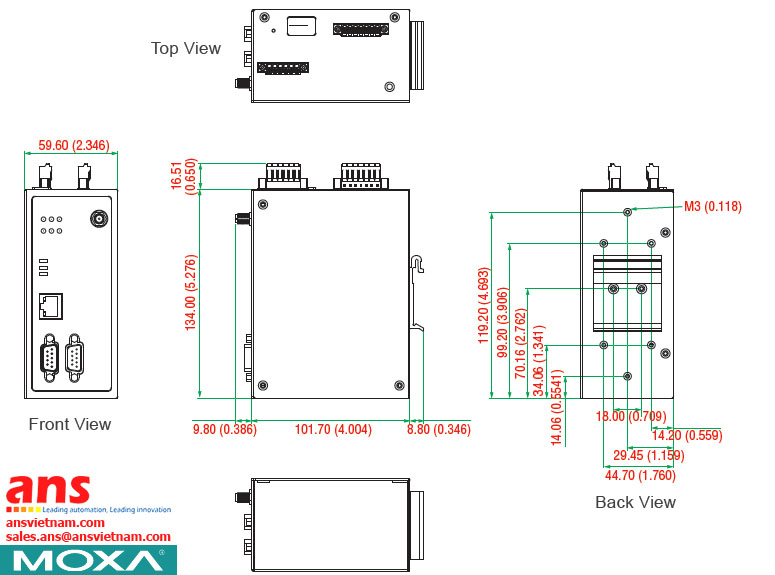 •

Ethernet Interface
Protocols
Modbus TCP, DNP3, TCP Client/Server modes supported
Number of Ports
1
Speed
10/100 Mbps, Auto MDI/MDIX
Connector
8-pin RJ45
Magnetic Isolation Protection
1.5 kV (built-in)

•

Serial Interface
Protocols
Modbus RTU/ASCII Master/Slave, DNP3
Number of Ports
MGate W5108: 1
MGate W5208: 2
Serial Standards
RS-232/422/485, software selectable
Connectors
DB9 male
Pull High/Low Resistor for RS-485
1 kΩ, 150 kΩ
Terminator for RS-485
120 Ω
Isolation
2 kV (built-in)

•

Serial Communication Parameters
Data Bits
7, 8
Stop Bits
1, 2
Parity
None, Even, Odd, Space, Mark
Flow Control
RTS/CTS, XON/XOFF, RTS Toggle
Baudrate
50 bps to 921.6 kbps

•

Serial Signals
RS-232
TxD, RxD, RTS, CTS, DTR, DSR, DCD, GND
RS-422
Tx+, Tx-, Rx+, Rx-, GND
RS-485-4w
Tx+, Tx-, Rx+, Rx-, GND
RS-485-2w
Data+, Data-, GND

•

Wireless Network
Standards Compliance
802.11a/b/g/n
Network Modes
Infrastructure, Ad-Hoc
Transmission Rate
802.11a/g: 65, 54, 48, 36, 24, 18, 12, 9, 6 Mbps, auto rate
802.11b: 11, 5.5, 2, 1 Mbps, auto rate
802.11n 2.4 GHz: HT20, MCS 0-7
802.11n 5 GHz: HT20 & HT40 MCS 0-7
Transmission Distance
Up to 100 meters (in open areas)
Antenna Connector
Reverse SMA
TX Transmit Power (per antenna port)
2.4 GHz
• 802.11b:
1 to 11 Mbps, Typ. 16 (±1.5 dBm)
• 802.11g:
6 to 36 Mbps, Typ.16 (±1.5 dBm)
48 Mbps, Typ. 15 (±1.5 dBm)
54 Mbps, Typ. 14 (±1.5 dBm)
• 802.11n (20 MHz):
MCS0-3: Typ. 16 dBm (± 1.5 dBm)
RX Sensitivity
2.4 GHz
• 802.11b:
-92 dBm @ 1 Mbps,
-88 dBm @ 2 Mbps,
-87 dBm @ 5.5 Mbps,
-84 dBm @ 11 Mbps
• 802.11g:
-91 dBm @ 6 Mbps,
-90 dBm @ 9 Mbps,
-88 dBm @ 12 Mbps,
-86 dBm @ 18 Mbps,
-80 dBm @ 24 Mbps,
-80 dBm @ 36
Spread Spectrum and Modulation (Typical)
OFDM (54, 48, 36, 24, 18, 12, 9, 6 Mbps)
OFDM (MCS0, MCS1, MCS2, MCS3 MCS4, MCS5, MCS6, MCS7)
CCK (11 Mbps, 5.5 Mbps)
DQPSK (2 Mbps)
DBPSK (1 Mbps)
Operating Channels (Central frequency)
• US:
2.412 to 2.462 GHz (11 channels)
5.180 to 5.240 (4 channels)
5.260 to 5.320 (4 channels)
5.500 to 5.700 GHz (8 channels, excludes 5.600 to 5.640 GHz)
5.745 to 5.825 GHz (5 channels)
• EU:
2.41

•

Digital Input/Output
Number of DIOs
2 DIs and 2 DOs
Connectors
6-pin terminal blocks
Dry Contact Level
Logic "0": Short to GND
Logic "1": Open
Wet Contact Level
Logic "0": +3 VDC max.
Logic "1": +10 to 30 V (COM to DI)
Digital Output (Sink Type)
Driver Current: Max. 200 mA per channel
On-state voltage: 24 VDC nominal, open collector to 30 V
Storage Card Slot
1 microSD (SDHC) card slot supports up to 32 GB

•

Software
Configuration Options
Web console, Telnet console
Utility
Device Search Utility (DSU) for Windows 95, 98, ME, NT, 2000, Windows XP, Server 2003, Vista, Server 2008 (x86/x64), Windows Server 2008 R2, Windows 7/8/8.1 (x86/x64), Windows Server 2012 (x64), Windows 2012 R2
Network Protocols
TCP/IP, UDP, HTTP, SMTP, NTP, DNS, DHCP Client, SNMP (v1, v2, v3), Private MIB, ARP, Telnet

•

Security
Authentication
WEP encryption ( 64 or 128 bit), WPA / WPA2-Personal and Enterprise (IEEE 802.1X/RADIUS, TKIP and AES)
Encryption
128-bit TKIP/AES-CCMP EAP-TLS, PEAP/GTC, PEAP/MD5, PEAP/MSCHAPV2, EAP-TTLS/PAP, EAP-TTLS/CHAP, EAP-TTLS/MSCHAP, EAP-TTLS/MSCHAPV2, EAP-TTLS/EAP-MSCHAPV2, EAP-TTLS/EAP-GTC, EAP-TTLS/EAP-MD5, LEAP

•

Physical Characteristics
Housing
Metal, IP30
Weight
MGate W5108: 589 g (1.30 lb)
MGate W5208: 738 g (1.63 lb)
Dimensions
MGate W5108: 45.8 x 105 x 134 mm (1.8 x 4.13 x 5.28 in)
MGate W5208: 59.6 x 101.7 x 134 mm (2.35 x 4 x 5.28 in)

•

Environmental Limits
Operating Temperature
Standard Models: 0 to 60°C (32 to 140°F)
Wide Temp. Models: -40 to 75°C (-40 to 167°F)
Storage Temperature
-40 to 85°C (-40 to 185°F)
Ambient Relative Humidity
5 to 95% (non-condensing)
Vibration
IEC 60068-2-6, IEC 60068-2-64
Shock
IEC 60068-2-27
Drop
IEC 60068-2-32

•

Power Requirements
Input Voltage
9 to 60 VDC
Input Current
495 mA @ 9 VDC; 202 mA @ 24 VDC; 114 mA @ 48 VDC; 99 mA @ 60 VDC
Power Connector
Terminal block

•

Standards and Certifications
Safety
UL 508, EN 60950-1
Hazardous Location
UL/cUL, Class 1 Division 2, ATEX Zone 2, IECEx
EMC
EN 55032/24
EMI
CISPR 32, FCC Part 15B Class B
EMS
IEC 61000-4-2 ESD: Contact: 6 kV; Air: 8 kV
IEC 61000-4-3 RS: 80 MHz to 1 GHz: 10 V/m
IEC 61000-4-4 EFT: Power: 4 kV; Signal: 2 kV
IEC 61000-4-5 Surge: Power: 2 kV
IEC 61000-4-6 CS: 150 kHz to 80 MHz: 10 V/m
IEC 61000-4-8 PFMF
Radio
EN 300328, EN 301893, TELECOM
CE (ETSI EN 301 893, ETSI EN 300 328), ARIB RCR STD-33, ARIB STD-66

•

Reliability
Alarm Functions
SMS, relay, e-mail
Alert Tools
Built-in buzzer
Automatic Reboot Trigger
Built-in WDT (watchdog timer)

•

MTBF (mean time between failures)
Time
MGate W5108: 668,518 hrs
MGate W5208: 556,271 hrs
Standard
Telcordia SR332

•

Warranty
Warranty Period
5 years
Details
www.anhnghison.com