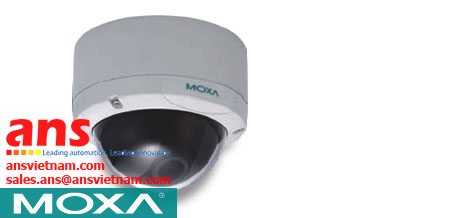 IP Cameras VPort 25 Moxa vietnam
VPort 25--- Phased Out Notice
Kindly notice that the Moxa VPort 25 series is phased out and will be substituted by the VPort 26 series. The VPort 26, an IP66, day-and-night, vandal-proof, H.264/ MJPEG fixed dome IP camera, is under development and is scheduled to be released in Q4, 2011. Please contact our sales representatives for any inquiry.The VPort 26 offers superior features compared to the VPort 25, and is an optimal IP camera for outdoor video surveillance applications.
Features of VPort 26 include:
Maximum 30 frames/second at SVGA (800x600) resolution
High quality video image with 3D_DNR, BLC, and WDR
Built-in de-mist function for clearer images in rain and fog
2.8 to 11 mm day-and-night vari-focal lens with built-in ICR (IR-cut filter removable)
Excellent low illumination performance up to 0.01 lux for color images
DynaStreamTM supported for network efficiency
Camera tamper alarm for redirection, blocking, defocusing, and spray paint
OnVIF supported for standardization and interoperability
802.1X and SSL/SSH for advanced network security
Features and Benefits
-40 to 50°C operating temperature; heater or fan not required
IP66-rated for protection from rain and dust
Direct-wired power input and PoE for power redundancy
Up to 30 frames/sec at 720 x 480 resolution
One camera lens for both day and night use

Free VPort SDK PLUS provides CGI Commands, ActiveX Control, and an API library for system integrators and third-party software developers

Introduction
The VPort 25 is a vandal-proof, IP66-rated, fixed dome IP camera for use in harsh, outdoor environments. With a maximum resolution of 520 TVL and day-and-night CCD camera lens, the VPort 25 is especially well-suited for high performance video surveillance applications. The VPort 25's IP66-rating provides protection against 25dust and rain, and the vandal-proof form factor design prevents damage from unexpected external forces. In addition, the case-open sensor sends an alarm message when the VPort 25's outer case is opened.


Heater and fan not required, supports direct-wired power input and PoE for power redundancy
The VPort 25's no-heater/fan-less embedded system provides greater reliability for outdoor use. In addition, the camera comes with redundant power inputs: (1) direct power connection (12/24 VDC and 24 VAC) and (2) PoE (IEEE 802.3af) power input.


High performance video, with full motion MJPEG/MPEG4 video stream
The VPort 25 uses the ASIC compression chip, which provides video performance up to full D1 (720 x 480) @ 30 FPS. To meet a wider range of customer requirements, the VPort 25 supports dual-codecs, including the MJPEG and MPEG4 algorithms.
Dimensions(unit = mm)

•

Camera
Sensor
1/3" Sony Super HAD or 1/3" Sony ExView
Lens
Wide-end: F1.4, diagonal 115.4°, horizontal 90.3°
Tele-end: F2.4, diagonal 39.8°, horizontal 31.9°
Focal Length: F= 3.7-12 mm
Modulation
NTSC or PAL
Camera Angle
Pan: ±180°; tilt: ±85°, rotation: ±170° (camera angles controlled manually)
Illumination
Color: 0.2 Lux at F1.2
Black and white: 0.03 Lux at F1.2
Synchronization
Internal
Gamma Correction
0.45
White Balance
Auto tracking white balance
Electronic Shutter Speed
1/60 (50) second to 1/100,000 second, automatic
S/N Ratio
More than 50 dB (AGC off)
AGC Control
On/Off
Flickerless Control
On/Off
Backlight Compensation
On/Off
Mirror
On/Off
Auto Exposure, Auto Iris
On: Auto exposure
Off: Auto iris
Horizontal Resolution
420/520 TVL
Effective Pixels
NTSC: 510 x 492 (middle resolution), 768 x 494 (high resolution)
PAL: 500 x 582 (middle resolution), 752 x 582 (high resolution)

•

Video
Video Compression
MJPEG or MPEG4 (ISO/IEC 14496-2)

• Video Resolution and FPS (frames per second)

Video Viewing
• Adjustable image size and quality
• Timestamp and text overlay
Video Output
Via Ethernet port or BNC connector (1.0 Vpp, 75 ohms)

•

Audio
Audio Inputs
1 Line-in or MIC-in with 2-pin terminal block connector
Audio Outputs
1 Line-out with 2-pin terminal block connector

•

Network
Protocols
TCP, UDP, HTTP, SMTP, FTP, Telnet, NTP, DNS, DHCP, UPnP, RTP, RTSP, ICMP, IGMPv3, QoS, SNMPv1/v2c/v3, DDNS
Ethernet
1 10/100BaseT(X) auto negotiating RJ45 port

•

GPIO
Digital Inputs
1, max. 8 mA
High: +13 to +30 V; Low: -30 to +3 V
Relay Outputs
1, max. 24 VDC @ 1A

•

LED Indicators
STAT
Indicates if the system booted properly
Network
1 LED for 10 Mbps, 1 LED for 100 Mbps
System
Power On/Off
DIP Switch
To turn the LED light On/Off

•

Power Requirements
Input Voltage
Redundant power inputs
• 12/24 VDC or 24 VAC with 2-pin terminal block connector
• Power-over-Ethernet (IEEE 802.3af)
Power Consumption
Max. 9.5 W

•

Physical Characteristics
Housing
IP66-rated for rain and dust protection, vandal-proof supports
Diameter
142 mm (5.59 in)
Height
118.9 mm (4.68 in)
Weight
1700 g
Installation
Surface mounting, wall mounting

•

Alarms
Video Motion Detection
Includes sensitivity tuning
Video Loss
Video loss alarm
Case-open Sensor
Built in case-open sensor alarm
Scheduling
Daily repeat timing schedule
Imaging
JPEG snapshots for pre/trigger/post alarm images
Custom Alarms
HTTP event servers for setting customized alarm actions

•

Security
Password
User level password protection
Filtering
By IP address

•

Environmental Limits
Operating Temperature
-40 to 50°C (-40 to 122°F)
Storage Temperature
-40 to 85°C (-40 to 185°F)
Ambient Relative Humidity
5 to 95% (non-condensing)

•

Standards and Certifications
EMI
FCC Part 15 Subpart B Class A, EN 55022 Class A
EMS
EN 61000-4-2 (ESD) Level 2,
EN 61000-4-3 (RS) Level 3,
EN 61000-4-4 (EFT) Level 3,
EN 61000-4-5 (Surge) Level 3,
EN 61000-4-6 (CS) Level 3,
EN 61000-4-8,
EN 61000-4-11
Shock
IEC 60068-2-27
Freefall
IEC 60068-2-32
Vibration
IEC 60068-2-6
Note
Please check Moxa's website for the most up-to-date certification status.

•

MTBF (mean time between failures)
Time
74,155 hrs
Database
Telcordia (Bellcore), GB 25°C

•

Warranty
Warranty Period
3 years
Details
See http://moxa-vietnam.ansvietnam.com/

•

Software Bundled Free
SoftDVR Lite
1 to 4-ch IP surveillance software for viewing and recording
VPort SDK PLUS
Includes CGI commands, ActiveX Control, and API library for customized applications or system integration for third-party developers (the latest version of SDK is vailable for download from Moxa's website).