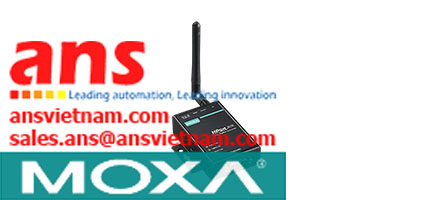 Wireless Device Servers NPort Z2150 Series Moxa vietnam
Features and Benefits
IEEE 802.15.4/ZigBee compliant

Network topologies: Mesh/Star/Cluster tree

128-bit AES hardware encryption

Enhanced surge protection for serial and power

Dual DC power inputs (NPort Z3150 only)

Easy-to-use configuration utility
Overview
The NPort Z2150 are IEEE 802.15.4/ZigBee compliant, providing a reliable wireless solution for serial-to-ZigBee networks requiring minimal wiring presence. The NPort Z2150 can be configured as a ZigBee coordinator (ZC), a ZigBee router (ZR), or a ZigBee end device (ZED). Any serial device can be connected to the NPort Z2150 and exchange data via PAN. An user-friendly utility is provided to configure the device type and network settings in simple steps.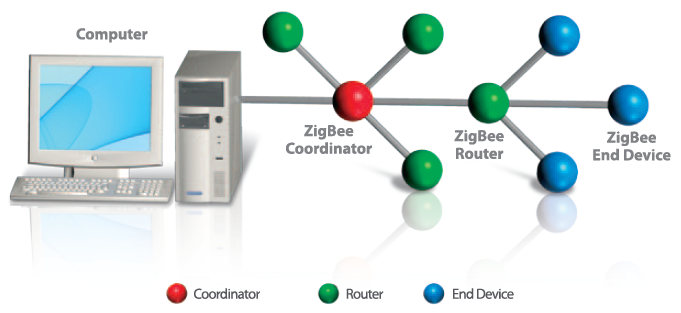 Surge-protected Serial and Power Lines
Surge, which is typically caused by high voltages that result from switching and lightning transients, is a common threat to all electrical devices. Moxa's leading-edge surge immunity solution, which is applied to the NPort Z2150/Z3150's serial and Ethernet lines, is tested and proven compliant with IEC 61000-4-5. This surge protection provides a robust solution that can protect electrical devices from voltage spikes and withstand electrically noisy environmental conditions.
Dimensions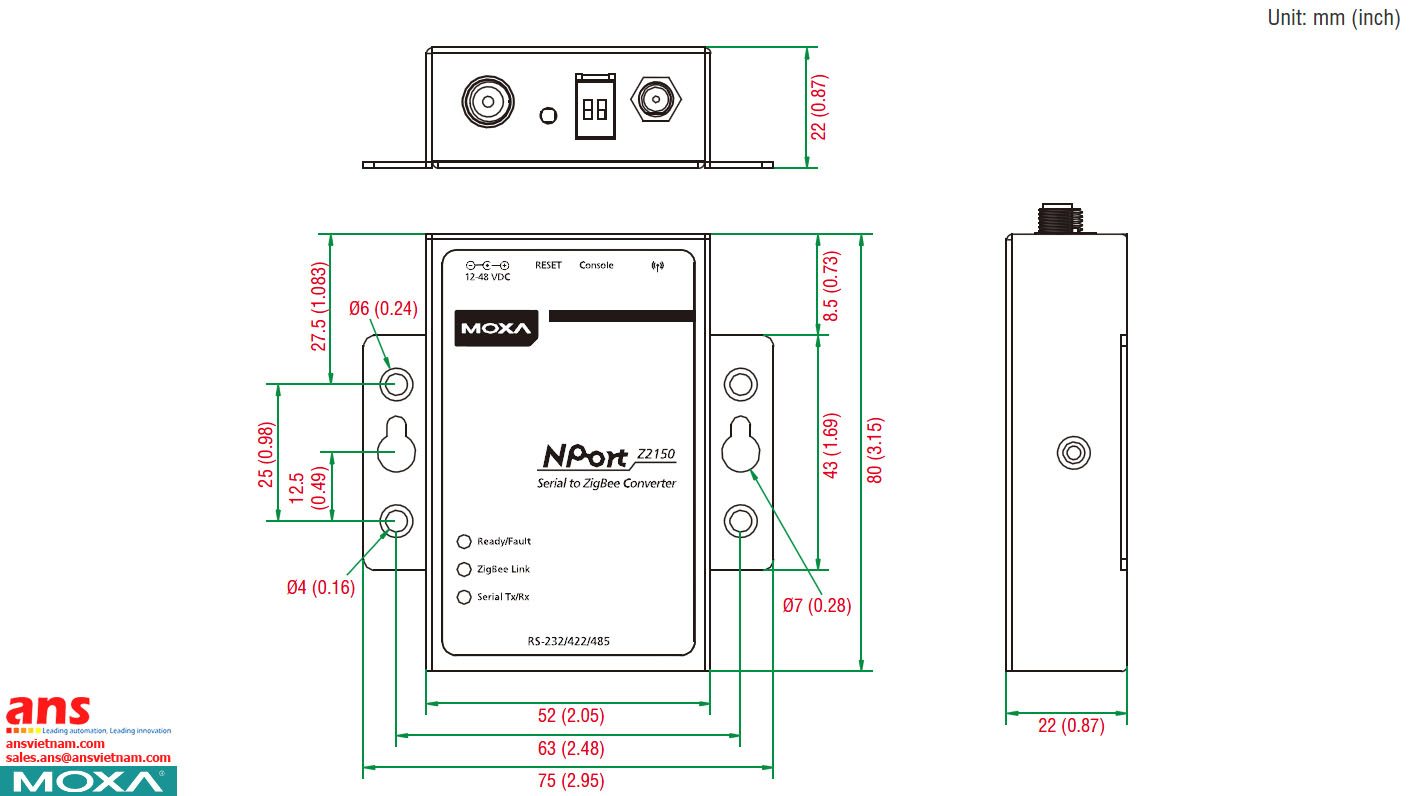 Pin Assignment

•

ZigBee Interface
RF Standard
802.15.4/ZigBee compliant
Frequency Band
2.4 GHz
RF Data Rate
250 kbps
Rx sensitivity
-96 dBm
Tx Power
4.5 dBm (Max)
Transmission Distance
Up tp 100 m (open space)
Antenna
2 dBi
RF Channel
16 channels
Device Type
Coordinator, Router (NPort Z2150 only), End Device (NPort Z2150 only)
Network Topology
Star, Mesh, Cluster tree
Security
128-bit AES encryption algorithms

•

Hardware
DIP Switch
Console/Operation Mode
SW1
Pull high/low resister, Termination for RS-422/485.
Reset Button
Reset to default

•

Serial Interface
Number of Ports
1
Serial Standards
RS-232/422/485
Connector
DB9 male
Serial Line Protection
1 kV surge protection
RS-485 Data Direction Control
ADDC (Automatic Data Direction Control)

•

Serial Communication Parameters
Data Bits
8
Stop Bits
1, 2
Parity
None, Even, Odd
Flow Control
RTS/CTS
Baudrate
50 bps to 230.4 kbps

•

Serial Signals
RS-232
TxD, RxD, RTS, CTS, DTR, DSR, DCD, GND
RS-422
TxD+, TxD-, RxD+, RxD-, GND
RS-485-4w
TxD+, TxD-, RxD+, RxD-, GND
RS-485-2w
Data+, Data-, GND

•

Software
Windows Real COM Drivers
Windows 95/98/ME/NT/2000, Windows XP/2003/Vista/2008/7/8/8.1/10 (x86/x64), Windows 2008 R2/2012/2012 R2 (x64), Windows Embedded CE 5.0/6.0, Windows XP Embedded
Configuration
ZigBee Configuration Utility
Firmware Upgrade
ZigBee Configuration Utility

•

Physical Characteristics
Housing
Aluminum
Weight
340 g (0.75 lb)
Dimensions
Without ears: 52 x 80 x 22 mm (2.05 x 3.15 x 0.87 in)
With ears: 75.2 x 80 x 22 mm (2.96 x 3.15 x 0.87 in)

•

Environmental Limits
Operating Temperature
Standard Models: 0 to 55°C (32 to 131°F)
Wide Temp. Models: -40 to 75°C (-40 to 167°F)
Storage Temperature
-40 to 75°C (-40 to 167°F)
Ambient Relative Humidity
5 to 95% RH

•

Power Requirements
Input Voltage
12 to 48 VDC
Input Current
45 mA @ 12 V

•

Standards and Certifications
Safety
UL 60950-1
EMC
EN 55032/24
EMI
CISPR 32, FCC Part 15B Class A
EMS
IEC 61000-4-2 ESD: Contact: 4 kV; Air: 8 kV
IEC 61000-4-3 RS: 80 MHz to 1 GHz: 3 V/m
IEC 61000-4-4 EFT: Power: 1 kV; Signal:0.5 kV
IEC 61000-4-5 Surge: Power: 1 kV; Signal: 1 kV
IEC 61000-4-6 CS: 150 kHz to 80 MHz: 3 V/m; Signal: 3 V/m
IEC 61000-4-8 PFMF
IEC 61000-4-11 DIPs
Radio
CE (ETSI EN 301 893, ETSI EN 300 328, ETSI EN 301 489-1-17, ETSI EN 301 489-1)

•

Reliability
Automatic Reboot Trigger
Built-in WDT (watchdog timer)

•

MTBF (mean time between failures)
Time
2,542,774 hrs
Standard
Telcordia (Bellcore) Standard TR/SR

•

Warranty
Warranty Period
5 years
Details
www.anhnghison.com