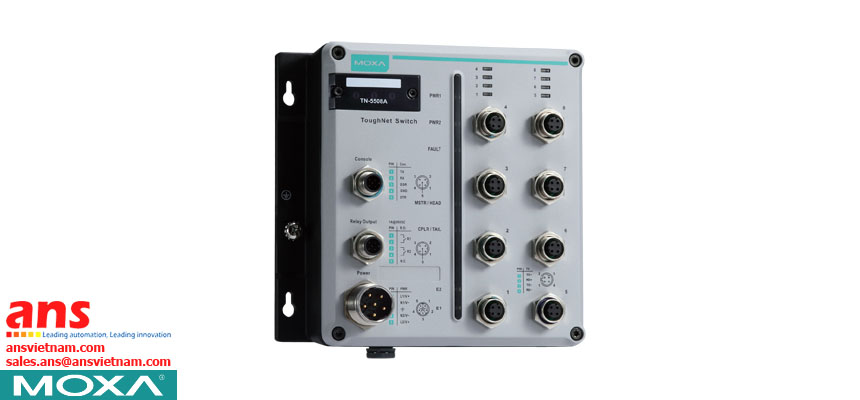 EN 50155 TN-5508A Series Moxa vietnam
Features and Benefits
Isolated power with wide 24 to 110 VDC power supply range
Complies with all EN 50155 mandatory test items*
-40 to 75°C operating temperature range
Turbo Ring and Turbo Chain (recovery time < 20 ms @ 250 switches), and STP/RSTP/MSTP for network redundancy
*This product is suitable for rolling stock railway applications, as defined by the EN 50155 standard. For a more detailed statement, click here: ansvietnam.com/moxa-pdf/moxa-vietnam-ansvietnam-EN_50155_Compliance.pdf
Introduction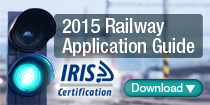 The ToughNet TN-5508A series M12 managed Ethernet switches are designed for railway applications, such as rolling stock, and wayside installations. The TN series switches use M12 and other circular connectors to ensure tight, robust connections, and guarantee reliable operation against environmental disturbances, such as vibration and shock. The TN-5508A series Ethernet switches provide 8 Fast Ethernet M12 ports. In addition, the -40 to 75°C operating temperature and IP54-rated waterproof enclosure allow deployment in harsh environments. Moreover, the TN-5500A series is compliant with the mandatory sections of EN 50155, covering operating temperature, power input voltage, surge, ESD and vibration, making the switches suitable for a variety of industrial applications.
White Paper: Optimized Ethernet Redundancy for Inter-Consist Networks
Network redundancy is a critical factor in ensuring passenger safety and journey reliability in onboard railway communications for both intra-consist and inter-consist Ethernet networks. In addition, railway operators are looking for ways to more efficiently allocate resources and serve passenger demands. For example, metropolitan rail services may want to run trains with fewer consists during off-peak hours but longer trains with more consists during rush hour. Railway operators can also serve multiple markets and conserve track assets by connecting multiple consists with different destinations into one train if they will travel along the same route for at least part of the journey.
This white paper describes how Dynamic Ring Coupling helps railway operators provide seamless onboard Ethernet redundancy with both rapid recovery times and automatic Ethernet switch configuration even when consists are rearranged mid-journey.
--------------------------------------------------------------------------------------------------------------------------------------
2015 Railway Application Guide
Moxa has provided key communications, data control, and computing infrastructure for dozens of successful major railway projects around the world. Metro, mainline, high speed rail, and conventional rolling stock applications on six continents. This brochure examines some key application scenarios and how Moxa addresses today's industrial challenges.
This brochure covers the following applications:
Ethernet Train Backbone

Onboard CCTV

Passenger Wi-Fi

Passenger Information System

Communication-based Train Control (CBTC)

Wayside Communication System

Condition Monitoring for Turnouts