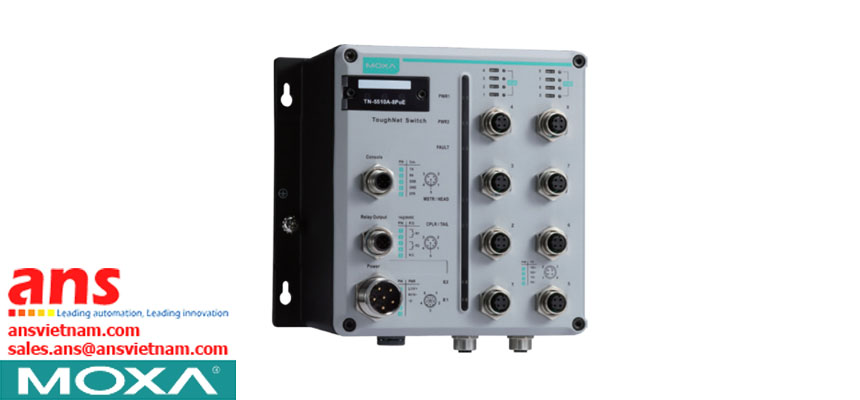 EN 50155 TN-5510A-8PoE Series Moxa vietnam

Features and Benefits
2 Gigabit ports with optional bypass relay function
Isolated power with wide 24 to 110 VDC power supply range
Complies with all EN 50155 mandatory test items*
-40 to 75°C operating temperature range
Turbo Ring and Turbo Chain (recovery time < 20 ms @ 250 switches), and STP/RSTP/MSTP for network redundancy
8 IEEE 802.3at/af compliant combo PoE and Ethernet ports
Provides up to 30 watts at 48 VDC per PoE port
*This product is suitable for rolling stock railway applications, as defined by the EN 50155 standard. For a more detailed statement, click here:
ansvietnam.com/moxa-pdf/moxa-vietnam-ansvietnam-EN_50155_Compliance.pdf
Introduction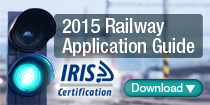 The ToughNet TN-5510A-8PoE series M12 managed Ethernet switches are designed for railway applications, including rolling stock and wayside installations. The switches use M12 and other circular connectors to ensure tight, robust connections, and guarantee reliable operation in industrial environments where vibration and shock are commonplace. The TN-5500A series Ethernet switches have 8 Fast Ethernet M12 ports with 8 IEEE 802.3at/af compliant PoE (Power-over-Ethernet) ports and 2 ports on the down side to provide the Gigabit Ethernet interface with an optional bypass relay function. The PoE switches are classified as power source equipment (PSE); they provide up to 30 watts of power per port, and can be used to power IEEE 802.3at/af compliant powered devices (PDs), such as IP cameras, wireless access points, and IP phones. The 24 to 110 VDC wide power input range and isolated power inputs not only allow you to use the same type of power source at different sites around the globe, but also increase the reliability of your communications system. Furthermore, the -40 to 75°C operating temperature and IP54-rated waterproof enclosure allow deployment in harsh environments. The TN-5500A series Ethernet switches are compliant with mandatory sections of EN 50155, covering operating temperature, power input voltage, surge, ESD, and vibration, as well as conformal coating and power insulation, making the switches suitable for a variety of industrial applications.
White Paper: Optimized Ethernet Redundancy for Inter-Consist Networks
Network redundancy is a critical factor in ensuring passenger safety and journey reliability in onboard railway communications for both intra-consist and inter-consist Ethernet networks. In addition, railway operators are looking for ways to more efficiently allocate resources and serve passenger demands. For example, metropolitan rail services may want to run trains with fewer consists during off-peak hours but longer trains with more consists during rush hour. Railway operators can also serve multiple markets and conserve track assets by connecting multiple consists with different destinations into one train if they will travel along the same route for at least part of the journey.
This white paper describes how Dynamic Ring Coupling helps railway operators provide seamless onboard Ethernet redundancy with both rapid recovery times and automatic Ethernet switch configuration even when consists are rearranged mid-journey.
--------------------------------------------------------------------------------------------------------------------------------------
2015 Railway Application Guide
Moxa has provided key communications, data control, and computing infrastructure for dozens of successful major railway projects around the world. Metro, mainline, high speed rail, and conventional rolling stock applications on six continents. This brochure examines some key application scenarios and how Moxa addresses today's industrial challenges.
This brochure covers the following applications:
Ethernet Train Backbone

Onboard CCTV

Passenger Wi-Fi

Passenger Information System

Communication-based Train Control (CBTC)

Wayside Communication System

Condition Monitoring for Turnouts
•

Technology
Standards
IEEE 802.3 for 10BaseT
IEEE 802.3u for 100BaseT(X)
IEEE 802.3ab for 1000BaseT(X)
IEEE 802.3x for Flow Control
IEEE 802.1D-2004 for Spanning Tree Protocol
IEEE 802.1w for Rapid Spanning Tree Protocol
IEEE 802.1s for Multiple Spanning Tree Protocol
IEEE 802.1Q for VLAN Tagging
IEEE 802.1p for Class of Service
IEEE 802.1X for Authentication
IEEE 802.3ad for Port Trunk with LACP
Protocols
IGMPv1/v2, GMRP, GVRP, SNMPv1/v2c/v3, DHCP Server/Client, DHCP Option 66/67/82, BootP, TFTP, SNTP, SMTP, RARP, RMON, HTTP, HTTPS, Telnet, SSH, Syslog, SNMP Inform, LLDP,
IEEE 1588 PTP v2, IPv6, NTP Server/Client, EtherNet/IP, Modbus/TCP

•

Software Features
Management
IPv4/IPv6, SNMP v1/v2c/v3, Telnet, LLDP, Port Mirror, Syslog, RMON, BootP, DHCP Server/Client, DHCP Option 66/67/82, TFTP, SNTP, SMTP, RARP, HTTP, HTTPS, SNMP inform, Flow Control, Back pressure flow control
Filter
802.1Q, Port-Based VLAN, GVRP, IGMPv1/v2, GMRP, Static Multicast
Redundancy Protocols
STP/RSTP, MSTP, Turbo Ring v1/v2, Turbo Ring v2 with DRC, Turbo Chain, Link Aggregation
Security
RADIUS, TACACS+, SSL, SSH, Port Lock, Broadcast Storm, Rate Limit
Time Management
SNTP, NTP Server/Client, IEEE1588 PTP (SW-Based)
Industrial Protocols
EtherNet/IP
Quality of Service
802.1P/Default/DSCP Mapping
MIB
MIB-II, Ethernet-like MIB, P-BRIDGE MIB, Q-BRIDGE MIB, Bridge MIB, RSTP MIB, RMON MIB Group 1, 2, 3, 9

•

Switch Properties
Priority Queues
4
Max. Number of VLANs
64
VLAN ID Range
VID 1 to 4094
IGMP Groups
256

•

Interface
Fast Ethernet
Front cabling, M12 D-coded 4-pin female connector, 10/100BaseT(X) auto negotiation speed, F/H duplex mode, and auto MDI/MDI-X connection
Gigabit Ethernet
Down cabling, M12 X-coded 8-pin female connector, 10/100/1000BaseT(X) auto negotiation speed, F/H duplex mode, auto MDI/MDI-X connection, with or without bypass relay function
Console Port
M12 A-coding 5-pin male connector
Alarm Contact
2 relay outputs in one M12 A-coding 5-pin male connector with current carrying capacity of 1 A @ 30 VDC

•

Power Requirements
Input Voltage
24/36/48/72/96/110 VDC
Operating Voltage
16.8 to 137.5 VDC
Input Current
7.9 A @ 24 VDC; 1.61 A @ 110 VDC
Overload Current Protection
Present
Connection
M23 connector
Reverse Polarity Protection
Present

•

Physical Characteristics
IP Rating
Metal, IP54 protection (optional protective caps available for unused ports)
Dimensions
185 x 180.9 x 115 mm (7.28 x 7.12 x 4.53 in)
Weight
2,551 g (5.62 lb)
Installation
Panel mounting, DIN-rail mounting (with optional kit: DK-DC50131)

•

Environmental Limits
Operating Temperature
-40 to 75°C (-40 to 167°F)
Storage Temperature
-40 to 85°C (-40 to 185°F)
Ambient Relative Humidity
5 to 95% (non-condensing)
Vibration
IEC 60068-2-6, 2-17.8 Hz: ±1.6 mm; 17.8-500 Hz: 2 g; 2 hours/axis
Shock
IEC 60068-2-27, 20 g / 11 ms
Ingress Protection
IEC 60529, IP54
Altitude
2,000 m
Note: Please contact Moxa if you require products guaranteed to function at higher altitudes

•

Standards and Certifications
Safety
UL/cUL 508, EN 60950-1 (LVD)
EMC
EN 55032, EN 55024
EMI
CISPR 32, FCC Part 15B Class A
EMS
IEC 61000-4-2 ESD: Contact 6 kV; Air 8 kV
IEC 61000-4-3 RS: 20 V/m (80 MHz to 1 GHz)
IEC 61000-4-4 EFT: Power 2 kV; Signal 2 kV
IEC 61000-4-5 Surge: Power 2 kV; Signal 2 kV
IEC 61000-4-6 CS: 10 V
IEC 61000-4-8
Rail Traffic
(for panel mounting installations) EN 50155*, EN 50121-4, EN 50121-3-2,
EN 45545-2
*This product is suitable for rolling stock railway applications, as defined by the EN 50155 standard. For a more detailed statement, click here:
ansvietnam.com/moxa-pdf/moxa-vietnam-ansvietnam-EN_50155_Compliance.pdf
Shock
IEC 61373
Freefall
IEC 60068-2-32
Vibration
EN 50155, IEC 61373

•

MTBF (mean time between failures)
Time
TN-5510A-8PoE-2GTX: 502,756 hrs
TN-5510A-8PoE-2GTXBP: 495,703 hrs
Standard
Telcordia SR332, GB, 25°C
Note: Please check Moxa's website for the most up-to-date certification status.

•

Warranty
Warranty Period
5 years
Details
www.anhnghison.com