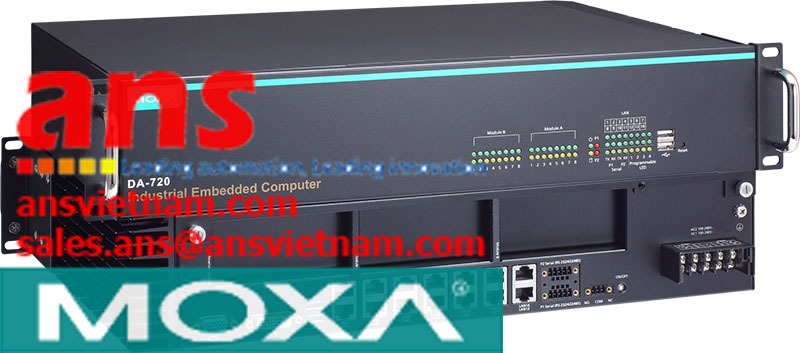 Power Substation Computers DA-720-DPP Moxa vietnam
Features
IEC 61850-3, IEEE 1613, and IEC 60255 compliant for power substation automation systems
EN 50121-4 compliant for railway wayside applications
6th Gen Intel® Core™ i7/i5 CPU (Skylake)
2 built-in DDR4 memory sockets
1 mSATA for OS and 1 SATA III for storage expansion
14 gigabit Ethernet ports for network redundancy
2 PCIe expansion slots for expansion modules
2 USB 3.0 ports for SuperSpeed peripherals
2 isolated RS-232/422/485 ports
Embedded Debian 8 Linux (W10 by CTOS)
Supports 110 to 240 VDC and 100 to 240 VAC power inputs
Overview
The DA-720-DPP series computers are x86 platforms with 14 gigabit Ethernet ports, 2 isolated RS-232/422/485 serial ports, USB, VGA, and 2 PCIe ports for expansion modules. The DA-720-DPP comes in a standard 19-inch 2U rack-mountable case with a robust design ideal for specialized industrial automation applications, including power substations, railway, factory, and building automation.

With IEC-61850-3 and IEEE 1613 compliance, the DA-720-DPP is sure to deliver stable and reliable system operation for power applications. The DA-720-DPP also complies with the IEC 60255 standards which cover the protection of electrical relays in a smart substation. IEC 60255 is one of the most widely used standards for testing relays and protection equipment, and compliance with the standard ensures that the DA-720-DPP will work reliably and seamlessly with IEDs as part of a robust substation automation system.

EN 50121-4 compliance confirms that the DA-720-DPP can deliver stable and reliable system operations in rail applications. In station ISCS (Integrated Supervisory Control System) and wayside control and monitoring systems, a powerful front-end processor is needed for controlling the local SCADA and traction power relay house. The expandable serial interfaces and 14 gigabit Ethernet ports enable the integration of station subsystems, including AFC, PAS, PSD, and FAS, on a single platform. For wayside applications, you can also integrate disaster prevention, traction power, and signaling and safety systems to provide an integrated view of your smart rail setup.

The DA-720-DPP comes with one of two different CPU options, and basic models that allow system designers to install the mSATA, RAM, and operating system according to their specific requirements. Such a wide choice of options is particularly welcome when it comes to designing customized industrial solutions.

The DA-720-DPP comes with 2 PCIe ports for expansion modules, including an 8-port RS-232/422/485 module, as well as 4-port and 8-port 10/100/1000 Mbps LAN modules. The DA-720-DPP computers can support up to 22 gigabit LAN ports plus 10 serial ports, or 14 gigabit LAN ports and 18 serial ports, making the DA-720-DPP an ideal solution for a wide range of industrial automation applications.
Smart Recovery Function
The DA-720-DPP's Smart Recovery function minimizes downtime by making it easy to recover from operating system crashes. Engineers who are experts in a particular vertical market may not have enough computer domain knowledge to know how to fix operating system problems. Moxa Smart Recovery™ is an automated BIOS-level software recovery system that allows engineers to automatically trigger OS recovery to minimize downtime.
Proactive Monitoring Function
Moxa Proactive Monitoring is a small-footprint, resource-friendly, easy-to-use utility that allows users to track a number of system parameters. Users can view the current parameter values for these key parts by simply clicking on the icons corresponding to the parameters in the user interface. User-defined key part indicators (KPIs) are used to monitor the computer's key parts. Visible and/or audio alerts are triggered automatically via relay and SNMP traps when these KPIs exceed their preset threshold values, making it extremely convenient for operators to avoid system downtime by setting up predictive maintenance tasks well in advance.
Application Note
Efficient IIoT Data Processing with High I/O Density Computers


With more and more companies implementing IIoT applications, the demand to connect hundreds or thousands of devices to industrial automation systems has increased dramatically. The DA-720, a high-performance industrial-grade x86 platform, is ideal for such applications. It is based on the lntel® 6th Gen Skylake processor and provides a high density of gigabit Ethernet and serial ports in a 19-inch 2U rack-mountable case, making it an ideal choice for IIoT applications in industrial automation systems.

Find out how Moxa's high I/O density rackmount computers can streamline your power, railway, and factory automation applications.......more
---
White Paper
How to Get the Best Out of the IIoT with Predictive Maintenance

The Industrial Internet of Things (IIoT) is shaping the way industrial applications are designed and implemented today. The IIoT is ushering in a new era of operational efficiency, information transparency, and economic growth. Innovative ideas on how to collect data, how to transform data, and how to use the data to increase efficiency and reduce costs are sprouting up all around us. The IIoT has bridged the gap between the physical and digital worlds and has created one combined space that provides limitless possibilities. In addition, the relentless pursuit of excellence in the IIoT world has renewed an interest in predictive maintenance solutions that ensure higher equipment reliability and system uptime.......more
---
White Paper

Intelligent Automation for the Maintenance and Recovery of Software Platforms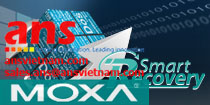 Automation advances in industrial processes increasingly involve using industrial PCs for the control and monitoring of every sort of machinery and process. Yet as industrial PCs penetrate ever further into the automation stack, the problem of data loss and system corruption becomes a critical consideration both for the security issues raised as well as overall system availability. In this white paper we examine the software and hardware features that constitute an effective, fully automated, BIOS initiated, block-level software recovery solution that can be used across any industrial environment, whether following emergency crashes or for automated preventive maintenance......more
---
White Paper

Making Smart Substations Even Smarter: Enhancing Substation Reliability, Availability, and Maintainability
This paper sketches out a few of the more important concerns that electricity suppliers should account for when planning substation upgrades. The focus is on how best to increase the reliability, availability, and maintainability of power substation automation networks within the context of the IEC 61850 vision, to give electricity suppliers a clear idea of the design procedures, device tolerances, and hardware and software features they should expect from the engineers and manufacturers who design and build their networking and computing devices.......more
---
White Paper

Using MMS and SNMP to Integrate IT Management for Substation Automation
The devices that electrical substation automation systems are built from depend on highly precise, time-critical communications. Substation thus often use highly specialized monitoring systems to tackle this problem, but can approach it using different technologies. The most up-to-date, "smart" substations use the Manufacturing Messaging Specification (MMS) for communications among IEC 61850 intelligent electronic devices (IEDs), allowing SCADA to monitor and control IED states as well as process switchgear and transformer data directly. However, IT networking devices have been increasingly applied in IEC 61850 systems, and this equipment communicates using SNMP. Consequently, in the modern substation automation industry it's clear that, for the time being, SNMP and MMS will continue to exist side-by-side. For designers and integrators of electrical substation equipment, bringing both MMS and SNMP support to IT equipment is an ideal, one-size fits-all alternative that allows for the greatest flexibility and adaptability around........more
Hardware Specifications

•

Computer
CPU
lntel 6th Gen Skylake Processor (BGA CPU package)
• Core i5-6300U, 2.4 GHz, dual-core CPU
• Core i7-6600U, 2.6 GHz, dual-core CPU
OS
Linux Debian 8 (pre-installed)
Note
Windows 10 Enterprise LTSB 64-bit available by CTOS
System Chipset
Intel© HD Graphics 520
BIOS
128 Mbit Flash BIOS, Plug & Play, ACPI
System Memory
32 GB capacity, 4 GB for Linux Debian 8 pre-installed; 2 slots for DDR4 SO-DIMM
USB
4 USB ports, system bootable, type A connector
• Front: 2 USB 2.0 ports
• Rear: 2 USB 3.0 ports

•

Storage
Built-in
8 GB industrial mSATA to store 64-bit Debian 8 Linux OS
Storage Expansion
1 x SATA 3.0

•

Display
Graphics Controller
Intel® HD Graphics (Integrated)
Display Interface
1 VGA output (DB15 female connector) and 1 DVI-D
Resolution
• VGA: CRT display mode with pixel resolution up to 1920 x 1200 @ 60 Hz
• DVI-D: Display mode with pixel resolution up to 1920 x 1200 @ 60 Hz

•

Ethernet Interface
LAN
Auto-sensing 10/100/1000 Mbps ports x 14
Magnetic Isolation Protection
1.5 kV built-in

•

Serial Interface
Serial Standards
2 RS-232/422/485 ports (terminal block)
ESD Protection
8 kV contact, 15 kV air
Surge Protection
2 kV line-to-line and 4 kV line-to-ground surge protection, 8/20 µs waveform
Insulation
500 V
Isolation
2 kV
Pull low/high
150k
Flow Control
Not supported
Baudrate
50 bps to 115.2 kbps

•

Serial Signals
RS-232
TxD, RxD, RTS. CTS, GND
RS-422
TxD+, TxD-, RxD+, RxD-, GND
RS-485-4w
TxD+, TxD-, RxD+, RxD-, GND
RS-485-2w
Data+, Data-, GND

•

LEDs
System
Power, Storage
LAN
Link or Active
Serial
2
Programmable
4 LEDs
Communication
Module A x 16, Module B x 16

•

Switches and Buttons
Power Button
On/Off (on rear panel)
Reset Button
Hard Reset (on front panel)

•

Physical Characteristics
Housing
SECC sheet metal (1 mm)
Weight
6.5 kg (14.33 lb)
Dimensions
440 x 301 x 90 mm (17.32 x 12.20 x 3.54 in) (without rackmount ears)
Mounting
Standard 19-inch rack

•

Environmental Limits
Operating Temperature
-25 to 55°C (-13 to 131°F)
Storage Temperature
-40 to 85°C (-40 to 185°F)
Ambient Relative Humidity
5 to 95% (non-condensing)
Anti-Vibration
3 mm (2-9 Hz), 10 m/s² (9-200 Hz), 15 m/s² (200-500 Hz) @ IEC-61850-3, IEC 60870-2-2/Bm/(3M6)/(4M6), sine wave, 2-500 Hz, 1 Oct/min, 10 cycles, 2 hrs 40 mins per axis
Anti-Shock
100 m/s² @ IEC-61850-3, IEC 60870-2-2/Bm/(3M6)/ (4M6), half sine wave, 11 ms

•

Power Requirements
Input Voltage
100 to 240 VAC; 110 to 240 VDC
Input Current
TBD

•

Standards and Certifications
Safety
UL 60950-1, IEC 60950-1, EN 60950-1
Electrical Substation
IEC 61850-3, IEEE 1613, IEC 60255
Railway
EN 50121-4
Protection Relay
IEC 60255
EMC
EN 61000-6-2/6-4
EMI
CISPR 22, FCC Part 15B Class A
EMS
IEC 61000-4-2 ESD: Contact: 8 kV; Air: 15 kV
IEC 61000-4-3 RS: 80 MHz to 1 GHz: 10 V/m
IEC 61000-4-4 EFT: Power: 4 kV; Signal: 4 kV
IEC 61000-4-5 Surge: Power: 4 kV; Signal: 4 kV
IEC 61000-4-6 CS: 10 V
IEC 61000-4-8
IEC 61000-4-11
Green Product
RoHS, CRoHS, WEEE

•

Reliability
Alert Tools
• Built-in buzzer and RTC (real-time clock) with lithium battery backup
• Built-in relay for audio/visual alarm
Automatic Reboot Trigger
Built-in watchdog timer, configurable for restarts at 1 to 255 second intervals

•

MTBF (mean time between failures)
Time
TBD

•

Warranty
Warranty Period
3 years
Details
www.anhnghison.com
Software Specifications

•

Linux
OS
Linux Debian 8 64-bit
Web Server (Apache)
Allows you to create and manage web sites; supports PHP and XML
File System
EXT4
Internet Protocol Suite
TCP, UDP, IPv4, SNMPv1/v2c/v3, ICMP, ARP, HTTP, CHAP, PAP, SSH 1.0/2.0, SSL, DHCP, NTP, NFS, Telnet, FTP, TFTP, PPP, PPPoE
Internet Security
OpenVPN, iptables firewall
Secure Shell for Remote Access
SSH allows remote logins to a secure encrypted console from any connected network
Dial-up Networking
PPP Daemon for Linux that allows Unix machines to connect to the Internet through dialup lines, using the Point-to-Point Protocol (PPP). Works with 'chat', 'dip', and 'diald', among (many) others. Supports IP, TCP, UDP, and (for Linux)
File Server
Enables remote clients to access files and other resources over the network
Watchdog
A watchdog timer that triggers a system reset upon software freezes, for both specific applications and system-wide failures.
Application Development Software
• Moxa API Library (Watchdog timer, Moxa serial I/O control)
• GNU C/C++ cross-compiler
• GNU C library
• Perl

•

Windows 10 Enterprise LTSB (by CTOS)
Core OS
• 64-bit support
• Remote Client
• Remote Procedure Call
Applications and Services Development
• .Net Framework 4.6
• Remote Desktop Protocol 10
• COM OLE Application Support
• COM+ Application Support
• MSMQ
• Works Folder Client
Internet Services
• Internet Explorer 11
• IIS 10
File Systems and Data Storage
• Windows Data Access Components
• Windows Backup and Restore
Diagnostics
• Common Diagnostic Tools
• Problem Reports and Solutions
Graphics and Multimedia
• MPEG DTV-DVD Audio Decoder (MPEG-2, AAC)
• MPEG Layer-3 Audio Codecs (MP3)
• MPEG4 Decoders
• Windows Media Video VC-1 (WMV) Codecs
• DirectX and Windows Device Experience
• Create and play DVDs
• Photo Viewer
• Remote media stre
Management
• Group Policy Management
• Windows Management Instrument (WMI)
• Windows Update
Networking
• Extensible Authentication Protocol (EAP)
• Internet Authentication Service
• Telnet Server
• Bluetooth
• Domain Services
• Network Access Protection
• Network and Sharing Center
• Quality of Service
• Remote Access Service (RAS)
• Telephony A
Security
• Credential Roaming Service
• Credentials and Certificate Management
• Windows Authorization Manager (AZMAN)
• Windows Security Center
• Active Directory Rights Management
• Security Base
• Encrypted File System (EFS)
• MS AntiMalware
• Windows
Embedded Features
• Unified Write Filter (UWF)
• Message Box Default Reply
• Registry Filter
• WSDAPI for .NET
Embedded Self-Health Diagnostics
SNMP-based remote scripting layer for monitoring, reporting, and control