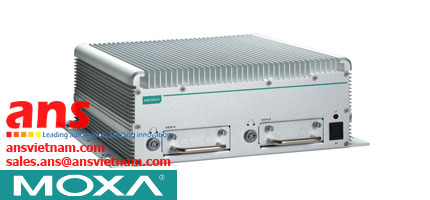 Industrial Network Video Recorder MXNVR-RO-T Moxa vietnam
Features and Benefits
Complies with all EN 50155 mandatory test items*
-40 to 70°C (TX temperature) operating temperature range,
without a fan
Record 1080P (1920 x 1080) images at up to 450 FPS
Live view of 720P (1280 x 720) images at up to 120 FPS
Multi-channel live view in 1/4 layout
Redundant video recording
Two built-in hot-swappable storage trays for 2.5" SSDs or HDDs
ONVIF support for standardization and interoperability
*This product is suitable for rolling stock railway applications, as defined by the EN 50155 standard. For a more detailed statement, click here: ansvietnam.com/moxa-pdf/moxa-vietnam-ansvietnam-EN_50155_Compliance.pdf
Introduction
The MXNVR-RO-T is an onboard NVR (network video recorder) specially designed for live viewing and recording video on trains. It is compliant with mandatory sections of EN 50155 (performance, TX temperature, shock vibration, and EN 50121-3-2 EMC), which allows the onboard CCTV system to keep oerating in critical onboard
environments (requires solid-state disks that supports -40 to 70°C operating temperatures). The MXNVR-RO-T can record 1080P (1920 x 1080) images at up to 450 FPS, and supports live view of 720P (1280 x 720) images at up to 120 FPS. The user interface is compatible with a touch panel, and is designed for use by train engineers and operators.
Digital Signature
In order to eliminate almost all possibility that a recorded file will be tampered with, the MXNVR-RO-T NVR utilizes the digital signature feature to enhance the security of the video file as soon as a video stream is recorded. This means the file is protected as soon as it is recorded instead of being protected just before the file is exported. Utilizing the optimized digital signature feature does not impact the recording performance. After exporting the recorded file from the NVR, the operator can check the validity of the file by using the attached public key to authenticate the origin of the file. Importantly, utilizing the digital signature feature as soon as the video is recorded complies with the ONVIF standard (ONVIF export file format).
-----------------------------------------------------------------------------------------------------------------------------------------
Optimized Performance
Train operators are always on the lookout for powerful NVRs that can record multiple IP cameras and display video at the same time. The problem facing operators is that high performance NVRs come with significantly higher price tags. Using an NVR with an optimized design allows operators to deploy a more powerful NVR that costs less. In addition, the performance of an NVR with limited processing power can be increased. Designed with the powerful Intel i7 processor i7-3517UE, the MXNVR-RO-T NVR adjusts the operating system and has a highly efficient software design that optimizes the performance of the NVR. The MXNVR-RO-T NVR is capable of recording 1080P (1920 x 1080) images at up to 450 FPS while simultaneously supporting real time viewing of 720P (1280 x 720) at up to 120 FPS.
-------------------------------------------------------------------------------------------------------------------------------------------------
Driver View
Until recently, onboard train environments were monitored with a user-friendly interface by technicians based in the railway's main control room. However, train operators now want train drivers and onboard operators to also be able to use this kind of interface. "Driver View" fulfils this requirement. Driver View, which provides real-time video feeds from multiple cameras, is an easy-to-use interface for use on trains. Driver View can also display video images that are recorded through any MXNVR-RO-T NVR installed on the train, and can inform the train driver or onboard operator of the status of each camera. Deploying Driver View onboard trains allows operators to react to incidents as soon as they occur.
•

Recording
Recoding Capability
Record 1080P (1920 x 1080) images at up to 450 FPS
Record Modes
Continuous, Schedule, Event
Stream Types
Video, Audio, Video/Audio
Video Input
IP video via Ethernet
Video Codecs
H.264, MPEG4, MJPEG
Audio Input/Output
1 line-in, 1 line-out, M12 connector
Audio Format
PCM (G.711), AAC
Event Record
Triggered by CGI/DI digital input, motion detection, or time period
Pre/Post Record
1 to 600 seconds (can be exported as a single video file)
Recycling Record
Enable/ Disable
Authentication
• Digital Signature, Onvif export file format compliant
• Hash Function: SHA-256
• Encryption: RSA (key length 512 bits)
• Padding scheme: RSA-PSS

•

Local Live View
Display Capability
720P (1280 x 720) images at up to 120 FPS
Display Mode
1/4 multi-channel layout
Display Sequence
Based on a multi-channel layout
Monitor Interfaces
2, 1 VGA DB15 female connector, 1 DVI-D connector
Snapshot Images
Save snapshot images to JPEG/PNG format

•

Searching and Exporting
Search Modes
Camera, date/time, event
Exporting
Export (download) recorded video files remotely by file or time period
Exporting File Formats
MP4
Authentication
Export recoded video files with watermark

•

Playback
Method
Export (download) video files for playback
Playback Modes
Continuous, timeline
Playback Operation
Play, Pause, Stop, Fast Forward, Fast Rewind

•

Storage
Disk Interface
2 hot-swappable 2.5" SATAII sockets
Note
Storage disks are not included. Users will need to purchase 2.5" hard disks or SSDs (solid state disks) from a hard disk vendor.

•

Display Interface
VGA Interface
DB15 female connector, 2048 x 1536 resolution (max.)
DVI Interface
DVI-D connector (Chrontel CH7307 SDVO to DVI transmitter), 1920 x 1200 resolution (max.)

•

Network
Ethernet
2 auto-sensing 10/100/1000 Mbps ports (M12 X-coded)
Network Configuration
IP address, subnet mask, gateway, DNS servers

•

Digital Input
Input Channels
6, source type
Input Voltage
0 to 30 VDC at 25 Hz
Digital Input Levels for Dry Contacts
• Logic level 0: Close to GND
• Logic level 1: Open
Digital Input Levels for Wet Contacts
• Logic level 0: +3 V max.
• Logic level 1: +10 V to +30 V (Source to DI)
Isolation Protection
3 kV

•

Digital Output
Output Channels
2, sink type
Output Current
200 mA (max.) per channel
On-State Voltage
24 VDC nominal, open collector to 30 VDC
Connector Type
10-pin screw-fastened terminal block (6 DI points, 2 DO points, DI Source, GND)
Isolation
3 kV optical isolation

•

LED Indicators
System
Power x 1, Storage x 1
LAN
100M/Link x 2, 1000M/Link x 2
Serial
TX x 2, RX x 2

•

Power Requirements
Input Voltage
24 to 110 VDC, M12 connector
Input Current
2.5 A @ 24 VDC to 0.55 A @ 110 VDC (without SSD/HDD attached)
Power Consumption
60 W (without SSD/HDD attached)

•

Physical Characteristics
Housing
Aluminum
Dimensions
287 x 290 x 101 mm (11.29 x 11.41 x 3.97 in)
Weight
5 kg (11.02 lb)
Installation
Wall mounting (standard)

•

Environmental Limits
Operating Temperature
-40 to 75°C (-40 to 167°F)
Storage Temperature
-40 to 85°C (-40 to 185°F)
Ambient Relative Humidity
5 to 95% (non-condensing)

•

Standards and Certifications
Safety
UL 60950-1, CSA C22.2 No. 60950-1-07, EN 60950-1
Rail Traffic
EN 50155*, EN 50121-4, IEC 61373
*This product is suitable for rolling stock railway applications, as defined by the EN 50155 standard. For a more detailed statement, click here ansvietnam.com/moxa-pdf/moxa-vietnam-ansvietnam-EN_50155_Compliance.pdf
EMC
EN 55032/24
EMI
CISPR 32, FCC Part 15B Class A
EMS
IEC 61000-4-2 ESD: Contact: 6 kV; Air: 8 kV
IEC 61000-4-3 RS: 80 MHz to 1 GHz: 20 V/m
IEC 61000-4-4 EFT: Power: 2 kV; Signal: 2 kV
IEC 61000-4-5 Surge: Power: 2 kV; Signal: 2 kV
IEC 61000-4-6 CS: 10 V
IEC 61000-4-8
Green Product
RoHS, CRoHS, WEEE

•

MTBF (mean time between failures)
Time
261,297 hrs
Standard
Telcordia SR332

•

Warranty
Warranty Period
3 years
Details
www.anhnghison.com

•

Minimum Viewing System Requirements
Note
These specifications describe the network video recorder itself, but not its official accessories. In particular, the wide temperature range supported by this product does not apply to accessories such as power adapters and cables.