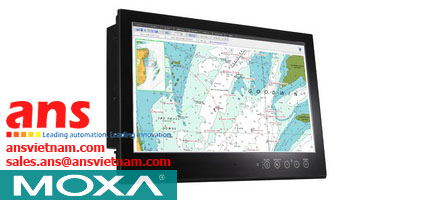 Panel Computers MPC-2240 Series Moxa vietnam
Features
24-inch panel computer
Color calibrated for ECDIS compliance
Fanless design
SavvyTouch display controls
3rd Generation Intel® Core™ or Celeron® processor(Celeron® 1047UE, 1.40 GHz, and Intel® Core i7 2610UE 1.5 GHz)
Built-in NMEA 0183 and software selectable RS-232/422/485 interfaces
Dual AC/DC power supply units
Overview
MPC-2240 series panel computers feature advanced Intel processors—3rd generation Ivy Bridge Core or Celeron—matched to 4 GB of system memory, delivering a reliable, high-performance platform of wide versatility for use in industrial marine environments. With its RS-232/422/485 serial, NMEA 0183, and Gigabit Ethernet LAN ports, the MPC- 2240 panel computer supports a wide variety of serial- and marine-specific interfaces alongside high speed IT communications, all with native network redundancy.
The MPC-2240 series comes with a range of standard display enhancements useful in industrial environments (including 0 to 100% full range dimming, 178°/178° wide viewing angles, optional optical bonding, and/or multi-touch screen), as well as Moxa's innovative SavvyTouch display controls.
The MPC-2240 panel computers are compliant with several industrial marine standards, including IEC 60945 4th, IEC 61174, IEC 61162, DNV2.4, and IACS E10, verifying their resilient durability in marine operations. An optional IP65-rated unibody shell provides strong additional protection against the harsh conditions found in marine environments. The MPC-2240 delivers a rugged, type approved, high performance and user friendly panel computer perfect for ECDIS navigation systems and other marine IBS applications.
2014 Marine Technical Case Study Brochure

Marine Computers, Displays, Panel PC and Ethernet Swithes
Moxa's shipboard networking and computing equipment are silently assuming command aboard ships all across the world. Download our marine brochure to find out how Moxa has built upon its cutting edge ECDIS compliant color calibration technology to add innovative efficiency and convenience to our rugged, reliable marine displays. In combination with a line of maritime products that includes fanless marine computers and our award-winning Ethernet switches, Moxa's products can revolutionize your maritime systems, electronically integrating and automating your entire network of operations.......more
---------------------------------------------------------------------------------------------------------------------------------------
2013 Marine Brochure

Marine Computers, Displays and Ethernet Swithes
Moxa's shipboard networking and computing equipment are silently assuming command aboard ships all across the world. Download our marine brochure to find out how Moxa has built upon its cutting edge ECDIS compliant color calibration technology to add innovative efficiency and convenience to our rugged, reliable marine displays. In combination with a line of maritime products that includes fanless marine computers and our award-winning Ethernet switches, Moxa's products can revolutionize your maritime systems, electronically integrating and automating your entire network of operations.......more
---------------------------------------------------------------------------------------------------------------------------------------
Marine Technical Case Study:

Oil Spill Detection System
This is a technical case study reviewing the specialized marine hardware components that make up an oil spill detection (OSD) system. In it, we give a general overview of the requirements industrial computers must meet to effectively serve these specialized systems, and indicate the peculiar elements of maritime technical environments that an OSD computer must fulfill.....more
----------------------------------------------------------------------------------------------------------------------------------------
Marine Technical Case Study

ECDIS Navigation System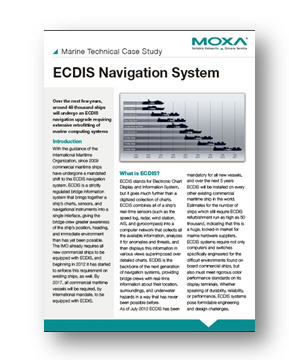 Come read up on the transformation that is changing forever the tools of ship navigation. ECDIS stands for Electronic Chart Display and Information System, and it is a huge leap forward for seaways navigation. This technical case study is a brief introduction to ECDIS components, relating a few of the details about how these systems are put together and the technical requirements that must be met to build a dependable and efficient ECDIS bridge station.....more
-------------------------------------------------------------------------------------------------------------------------------------------------
White Paper:

ECDIS Hardware and the Integrated Bridge
The marine industry's mandated transition to the Electronic Charts Display and Information System is a revolutionary development in ships' bridge systems. In this white paper, we show you how technological advances are aiding in modularization of bridge systems, and particularly how a new technique for calibrating color in ECDIS displays is simplifying the design and deployment of these systems....more
•

Computer
CPU
Intel Core Processor i7-3517UE (1.7 GHz)
System Chipset
Intel HM65
System Memory
8 GB capacity, 4 GB pre-installed: 1 slot of 4 GB DDR3-1600 204 pin SO-DIMM SDRAM
USB
4 bootable USB 2.0 hosts, type A connectors
Storage
2 SATA III interfaces: 6 Gbps, 2.5" removable storage trays
BIOS
64 Mbit Flash BIOS with SPI, ACPI
Graphics Controller
Intel HM65 Express chipset built-in
Video Output
DVI-D x 1, VGA x 1 (female)

•

Other Peripherals
Audio
line in/out, 3.5 mm mini jack
KB/MS
2 PS/2 interfaces supporting standard PS/2 keyboard and mouse

•

Display
Panel Size
24" viewable image size
Panel Type
MVA
Aspect Ratio
16:9
Pixels
1920 x 1080 (WSXGA+)
Pixel Pitch (RGB)
0.276 (H) x 0.276 (V) mm
Response Time
25 ms (gray to gray)
Contrast Ratio
5000:1
Light Intensity
300 cd/m^2
Viewing Angles
178°/178°
Active Display Area
531.36 (H) x 298.89 (V) mm
Max. No. of Colors
16.7M (8 bit color)
Resolution
• VGA: 640 x 480
• SVGA: 800 x 600
• XGA: 1024 x 768
• SXGA: 1280 x 1024
• WSXGA+: 1920 x 1080 (benchmarked setting)

•

Ethernet Interface
LAN
Auto-sensing 10/100/1000 Mbps ports (RJ45) x 2
Magnetic Isolation Protection
1.5 kV built-in

•

Serial Interface
Serial Standards
2 RS-232/422/485 ports, software-selectable (DB9 male)

•

Serial Communication Parameters
Data Bits
5, 6, 7, 8
Stop Bits
1, 1.5, 2
Parity
None, Even, Odd, Space, Mark
Flow Control
RTS/CTS, XON/XOFF, ADDC® (automatic data direction control) for RS-485
Baudrate
50 bps to 115.2 kbps (supports non-standard baudrates; see user's manual for details)

•

Serial Signals
RS-232
TxD, RxD, DTR, DSR, RTS, CTS, DCD, GND
RS-422
TxD+, TxD-, RxD+, RxD-, GND
RS-485-4w
TxD+, TxD-, RxD+, RxD-, GND
RS-485-2w
Data+, Data-, GND

•

NMEA Interface
Serial Standards
8 NMEA 0183 ports
Base Serial Standard
RS-422
Optical Isolation Protection
±6 kV contact discharge, ±8 kV air discharge
Voltage Differential
-15 V to + 15 V
Baudrate
4800 bps
Data Bits
8
Stop Bits
1, 1.5, 2
Parity
None
Handshake
None

•

LEDs
System
Storage, Power
LAN
100M/Link x 2, 1000M/Link x 2 (on connector)

•

Front Panel
LEDs
Storage
SavvyTouch Display Control Buttons
ECDIS, INFO, Brightness (+, -), MENU

•

Physical Characteristics
Housing
Aluminum sheet metal
Weight
12.4 kg (27.56 lb)
Dimensions
595 x 393 x 75 mm (23.44 x 15.48 x 2.95 in)
Mounting
VESA, panel, and desktop

•

Environmental Limits
Operating Temperature
-15 to 55°C (5 to 131°F)
Storage Temperature
-20 to 60°C (-4 to 140°F)
Ambient Relative Humidity
5 to 95% (non-condensing)
IP Rating
• Front: IP54
• Rear: IP22
Anti-Vibration
0.7 g @ DNV2.4 (Class A), sine wave, 2-100 Hz, 1 Oct./min., 1.5 hr per axis

•

Power Requirements
Input Voltage
• 24 VDC, 6 A or (18 to 34 VDC, 8 A max.), screw-type terminal block
• 100 to 240 VAC, 50 to 60 Hz, 2 A, AC power inlet

•

Standards and Certifications
Safety
UL 60950-1, EN 60950-1, IEC 60950-1
EMC
EN 55032/24
EMI
CISPR 32, FCC Part 15B Class A
EMS
IEC 61000-4-2 ESD: Contact: 4 kV; Air: 8 kV
IEC 61000-4-3 RS: 80 MHz to 1 GHz, 3 V/m
IEC 61000-4-4 EFT: Power 1 kV; Signal 0.5 kV
IEC 61000-4-5 Surge: Power 2 kV; Signal: 1 kV
IEC 61000-4-6 CS: Signal: 1 kV IEC 61000-4-8
Marine
IEC 60945 4th, IEC 61174, IEC 61162, DNV2.4, IACS E10
Green Product
RoHS, cRoHS, WEEE

•

Reliability
Automatic Reboot Trigger
Built-in watchdog timer (WDT), configurable for resets following 1-255 second hang intervals; software programmable

•

Warranty
Warranty Period
• Computer systems: 3 years
• LCD panels: 1 year
Details
www.anhnghison.com